This clementine and polenta cake makes the best of those zesty, fresh citrus flavours of the clementine. It is wonderfully moist, very light in texture and gluten free.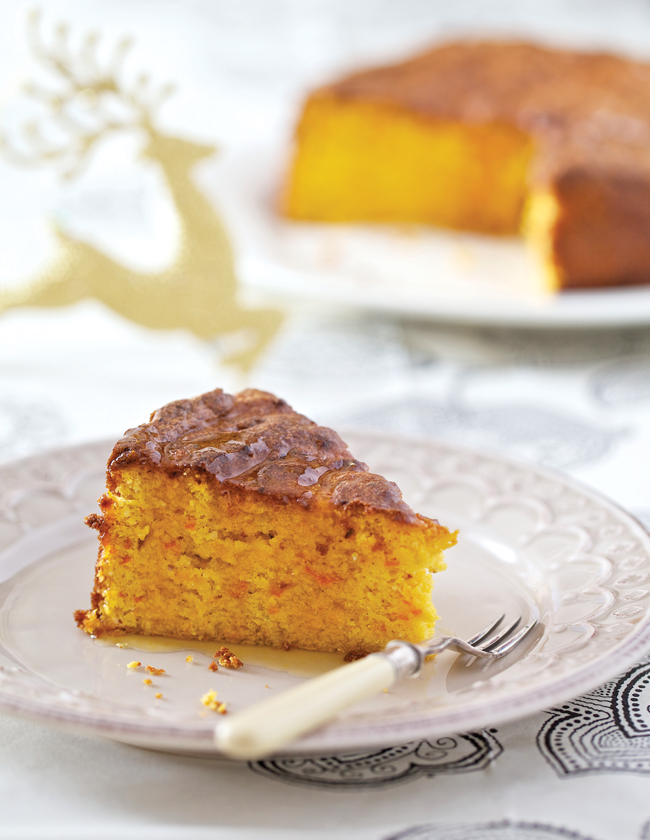 Amazingly Moist Clementine and Polenta Cake
Serves 10  | Preparation time 45 mins | Baking time up to 1 hour
GF DF MF
Ingredients
For the cake:
4-5 clementines, unpeeled
(about 280g in weight)
3 tbsp Grand Marnier

     

5 eggs, separated
200g golden caster sugar
100g ground almonds
100g polenta
For the syrup:
Juice of 2 clementines
2 tbsp Grand Marnier
75g golden caster sugar
Method
For the cake, thoroughly scrub the unpeeled clementines then roughly chop them and remove any pips.
Put the chopped clementines and 2tbsp of the Grand Marnier in a small saucepan. Cover and cook gently for 20 mins or until the clementines are soft and the excess liquid has evaporated. Shake and check the pan every now and again to make sure there is still liquid in it, if not add a little water. Leave to cool.
Preheat the oven to 180°C/160°C fan/gas mark 4. Line the bottom and sides of a 23cm loose bottomed cake tin with baking paper.
Place the chopped clementines in a food processor or blender along with the remaining 1tbsp of Grand Marnier, whizz into a puree.
Put the 5 egg whites in a large grease free bowl and whisk until they form stiff peaks. Gradually whisk in half the sugar, then whisk for 1 min.
In another bowl, whisk the 5 egg yolks with the remaining sugar for 2-3 minutes or until pale and quite thick. Whisk in the puréed clementines then gently fold in the ground almonds and polenta using a metal spoon.
Stir in 3 spoonfuls of the whisked egg white to loosen the mixture and gently fold in the remaining egg white. Put the mixture into the prepared tin and level the top.
Bake for 50-55 mins or until the cake is golden and a skewer inserted in the centre comes out clean. If the cake needs to cook for a little longer, cover lightly with foil to stop it from browning too quickly. Once cooked, leave to cool in the tin.
For the syrup, heat the clementine juice, Grand Marnier and sugar in a small pan until the sugar is dissolved. While the cake is still warm and in the tin, make holes in the top of it using a skewer. Pour a quarter of the syrup over the cake ensuring it covers the holes to allow it to seep into the cake.
When the cake is completely cool, remove from the tin, remove the baking paper and transfer to a serving plate. Serve with the remaining syrup and mascarpone if desired. Eat within 2-3 days.
TIP:
* The Grand Marnier is a festive optional ingredient so can be left out for a delicious alcohol free version.