Apple, cinnamon & raisin pastries
Whip up a wicked weekend treat with these sumptuous crispy apple, cinnamon and raisin pastries.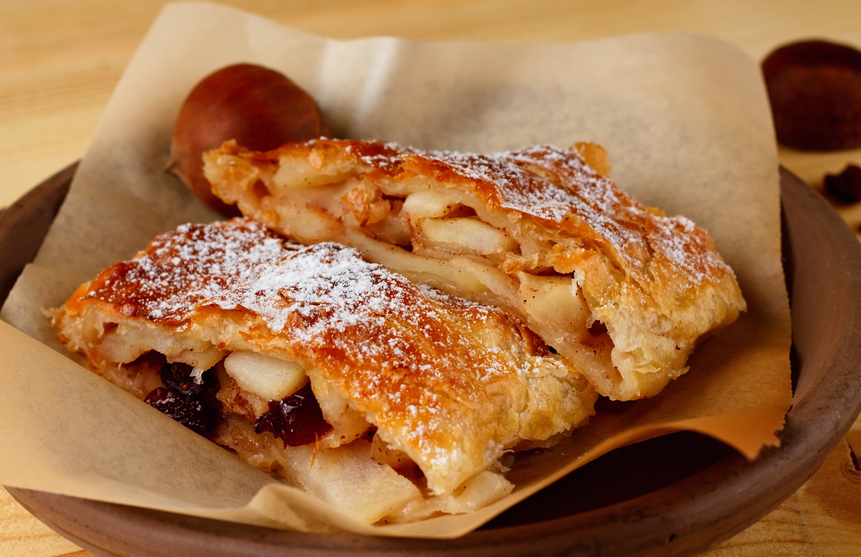 Apple, cinnamon & raisin pastries
By Silly Yak (www.sillyyak.co.uk)
 Serves 6 | Prep 20 mins | Cook 35-40 mins | Calories 451 (per serving)
GF MF
Ingredients
200g (7oz) diced apples in syrup
2 tsp cinnamon
100g (3½oz) raisins
1 block of Silly Yak puff pastry
1 free-range egg, beaten
Method
Preheat the oven to 200ºC/Gas Mark 6. Dust the surface and roll the pastry out 5mm (¼in) thick. Cut a 30x20cm (12x8in) rectangle. Remove the excess pastry.
In a bowl, mix the apples, cinnamon and raisins. Place the mixture across the centre of the pastry in a strip about 6cm (2½in) wide
With a sharp knife, cut the pastry into squares, and fold into parcels, ensuring there are no gaps to let the filling run out.
Alternately, cut the pastry into strips, and fold in a criss cross pattern over the top of the filling to form the plait. One from the top, followed by one from the bottom and repeat until all strips are interwoven.
Brush with whisked egg and place on a lined baking tray
Bake in the oven for 35-40 minutes until the pastry is golden brown.
Comments
Tags:
Gluten-Free
,
Gluten-Free Dessert
,
Gluten-Free Diet
,
Gluten-Free Recipes
,
Pastry
,
Puff Pastry