Kids will love these baked vegetable fries, which make great healthy alternatives to chips that are very moreish indeed!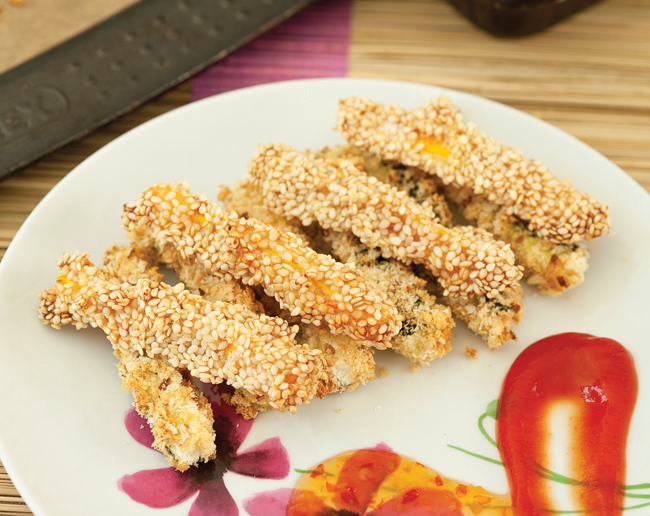 Baked Vegetable Fries
Preparation time 20 mins | Baking time 10-15 mins | Serves 4-6 as a starter or side dish
GF SF DF  V MF
Ingredients
For the courgette fries:
1-2 slices of bread, grated or blitzed to make breadcrumbs
50g gluten-free flour
Salt and pepper
1 egg, beaten
2 medium-large courgettes, washed, top and tailed
For the carrot fries:
50g gluten-free flour
50-100 ml sweet chilli sauce
125g sesame seeds
2 large carrots, washed, peeled, top and tailed
Method
Preheat the oven to 200˚C/180˚C fan/gas mark 6. For the courgette fries, firstly toast the breadcrumbs by placing them on a baking sheet and bake for 5-10 mins until lightly golden, stirring halfway. Allow to cool then transfer to a large bowl or a large flat plate.
Line two baking trays with baking paper. Place the flour on a large flat plate and season with salt and pepper. Pour the beaten egg into a wide bowl.
Cut the courgettes in half widthways then slice each half lengthways into 5mm-1cm wide strips. Roll each strip in the flour so it is completely covered, dip into the egg ensuring it is well coated then finally roll in the toasted breadcrumbs until completely covered. Place on one of the prepared baking trays.
For the carrot fries, place the flour, chilli sauce and sesame seeds on large flat separate plates. Cut the carrots in half widthways, then cut each half lengthways into 5mm-1cm wide strips. Roll each strip in the flour, then in the chilli sauce and finally in the sesame seeds ensuring they are well coated each time. Transfer to the prepared baking tray.
Bake for 10-15 mins, until sizzling and golden, turning halfway. Enjoy hot from the oven with tomato sauce, chilli sauce or your choice of dip.
TIP:
* Add a handful of finely grated hard cheese to the breadcrumbs for a different flavour.