Who needs pop tarts when you can have these wonderful blueberry breakfast bars instead? And there's no need to feel guilty as they're gluten, dairy, sugar and egg free too!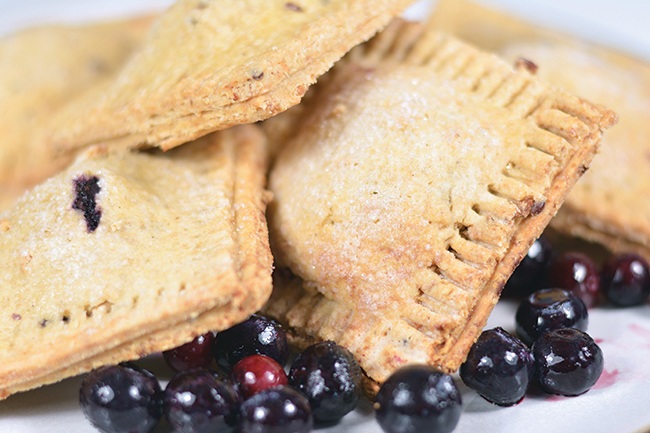 Blueberry breakfast bakes
By Nature's Path (www.naturespath.co.uk)      
Makes 7-8 | Prep 20 | Cook 40 mins | Calories 187 (per bake)
GF SF DF EF V MF
Ingredients
For the pastry:
3 sachets of Nature's Path spiced apple oats
40g (1½oz) chickpea flour
80g (3oz) plain gluten-free flour (or half tapioca flour and half potato flour, whichever you have), plus extra for rolling
1 tsp xanthan gum
1 tbsp ground flax seeds
40g (1½oz) dairy-free spread
60g (2oz) solid Stork
For the filling:
80g (3oz) blueberries
sugar or sweetener of your choice to taste and for sprinkling
7-8 tsp Nature's Path granola (if dairy-free, choose the pumpkin variety)
dairy-free milk, for brushing
Method
Grind the oats in the processor for about 2 minutes until flour-like, then add the flours and xanthan gum and process until mixed.
Combine the ground flax seeds with 3 tbsp water in a small bowl and leave to stand.
Add the fats to the dry mixture and process again until the mixture starts to clump together.
Give the flax 'egg' mixture a stir, then add it to the mixture and blend until a dough forms. Remove the mixture from the bowl and place on a clean, floured surface.
Knead the mixture until it forms a smooth dough, adding a little extra flour if required.

 

If it seems rather sticky, place in the fridge for about 30 minutes while you get on with making the filling.
To make the filling, place the fruit into a small saucepan and cook over a low heat for about 20 minutes, or until you can squash the berries easily (you may need a splash of extra water if it is rather dry), then remove from the heat and sweeten to taste.
Preheat the oven to 190

º

C/Gas Mark 5. Roll the pastry on a floured surface 3mm (¼in) thick.
Cut your pastry into 7x7cm (2¾x2¾in) squares.

 

Make sure you have an even number!
Transfer half the squares to the middle of a baking tray and add 1 tsp granola topped with 1 tsp fruit, leaving 1cm (½in) clear around the edges. Repeat until all the squares on the baking tray have a filling.
Brush the edges with water or dairy-free milk, then place a square of pastry over the top and seal the edges. Repeat until all the bakes are done.
Brush with dairy-free milk and sprinkle with sugar, if you like, before baking in the oven for about 20 minutes, or until golden.