Blueberry & yoghurt American style gluten-free pancakes
An American classic, these fluffy gluten and sugar-free blueberry and yoghurt American-style gluten-free pancakes make the perfect brunch.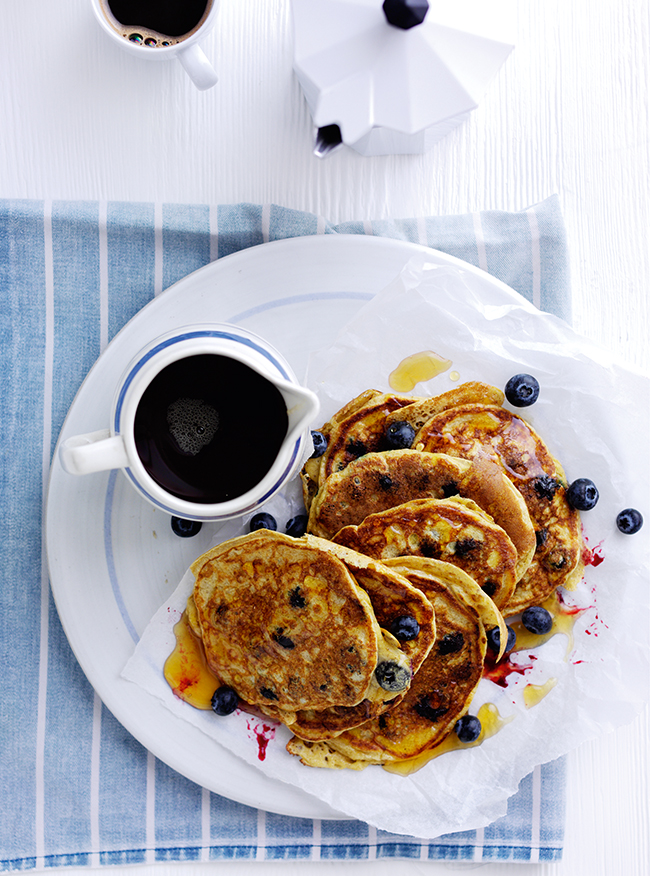 Blueberry & yoghurt American style gluten-free pancakes
By Seasonal Berries (www.seasonalberries.co.uk)
Serves 4 | Prep 10 mins | Cook 10-15 mins | Calories 241 (per serving)
GF SF MF
Ingredients
50g (2oz) fine polenta
50g (2oz) tapioca flour
½ tsp ground cinnamon
1 tsp bicarbonate of soda
200g (7oz) low-fat natural yoghurt
2 free-range eggs
150g (5oz) blueberries, plus extra for serving
1-2 tbsp sunflower oil, for frying
To serve
a little butter
maple syrup or runny honey
Method
Mix the flours, cinnamon and bicarbonate of soda together in a bowl. Add the yoghurt and eggs and whisk together until smooth, then fold in the blueberries.
Heat a little oil in a large non-stick frying pan – wipe out the excess with a piece of crumpled kitchen towel. Drop large spoonfuls of the thick batter into the pan and cook for 2-3 minutes, until bubbles can be seen and the undersides are tinged brown.
Turn the pancakes over with a palette knife and cook the second side for 1-2 minutes. Remove from the pan and keep hot in a folded napkin. Oil the pan once more and cook more pancakes in the same way until all the mixture has been used up, lowering the heat slightly if needed.
Stack the pancakes onto plates, top with a little butter, extra blueberries and a drizzle of maple syrup or honey.
Tags:
Gluten-Free
,
Gluten-Free Breakfast
,
Gluten-Free Diet
,
Gluten-Free Recipes
,
Pancakes
,
Sugar-Free Diet
,
Sugar-Free Recipes