Carrot Cake with Coconut Cream Icing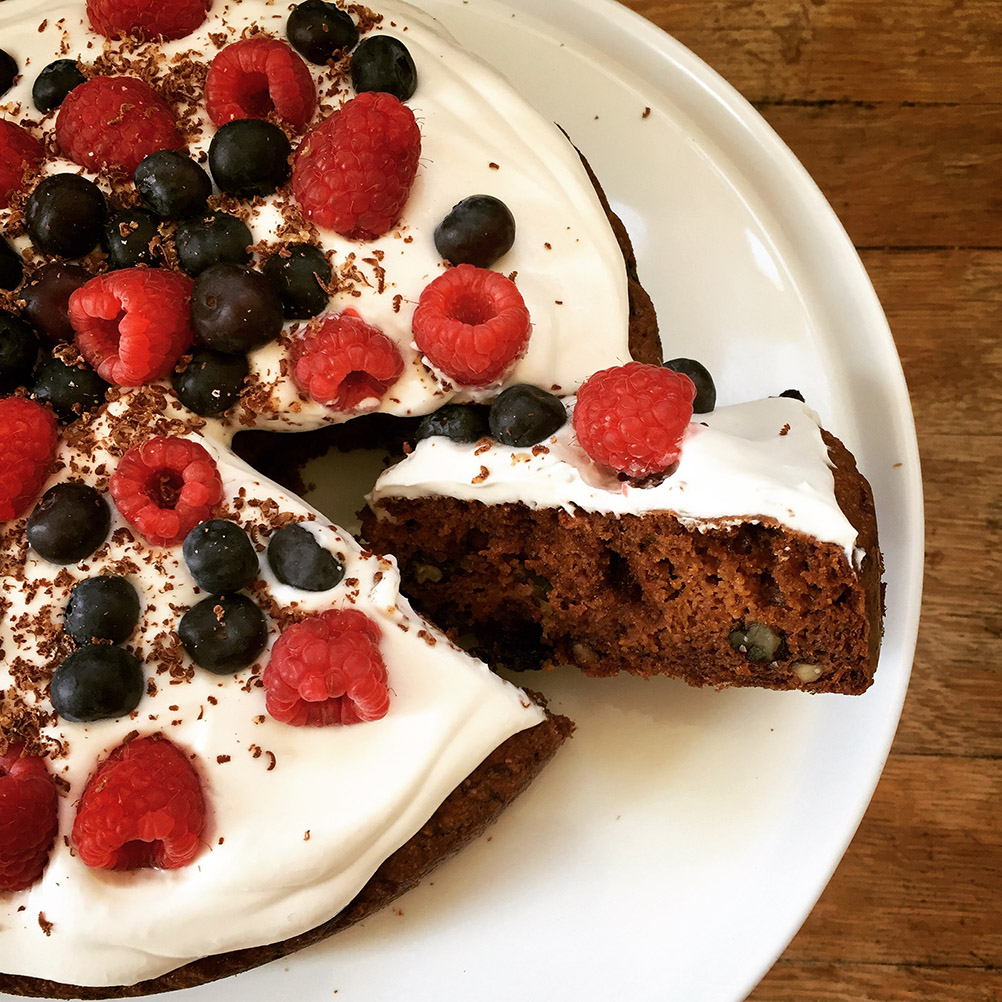 Carrot cake with coconut cream icing
By Donna Crous (www.eighty20nutrition.com)
Gluten-Free, Dairy-Free, Meat-Free
Serves 8-10 | Prep 20 mins | Cook 45 mins | Calories 393 (per serving)
Ingredients
FOR THE CAKE:
3 free-range eggs, at room temperature
115ml (4fl oz) coconut oil, melted
2 tsp vanilla extract
300g (101/2oz) carrot, grated
375g (13oz) almond flour
2 tsp bicarbonate of soda
115g (4oz) raw coconut palm sugar
125g (41/2oz) raw pecan nuts, chopped
1 tsp cinnamon
1 tsp dried ginger
1 tsp nutmeg
FOR THE ICING:
320ml (11fl oz) coconut cream
1 tbsp raw honey or maple syrup
1 tbsp lemon juice
a handful of fresh berries
Method
Preheat the oven to 175ºC/Gas Mark 4. Grease and line a 20cm (8in) baking tin.
In a large bowl, add all the wet cake ingredients and whisk until light and fluffy. Stir in the carrots. In another bowl, add all the dry cake ingredients and stir gently.
Add the dry ingredients to the wet ingredients and stir in gently.
Transfer the mixture to the baking tin, then bake in the oven for 45 minutes, or until a skewer inserted into the centre of the cake comes out clean. Leave to cool before icing.
For the icing, whisk the coconut cream until light and fluffy. Whisk in the honey/maple syrup and lemon. Spread the icing over the top of the cake, then sprinkle over a selection of fresh berries.
Visit www.eighty20nutrition.com for more fabulous recipes…
Tags:
Dairy-Free
,
Dairy-Free Dessert
,
Gluten-Free
,
Gluten-Free Dessert
,
Gluten-Free Recipes