Chicken & Mango Red Thai curry
Say hello to the easiest and most delicious Thai curry you could try. It's ready in 20 minutes and is the perfect post-gym meal to keep your body fuelled.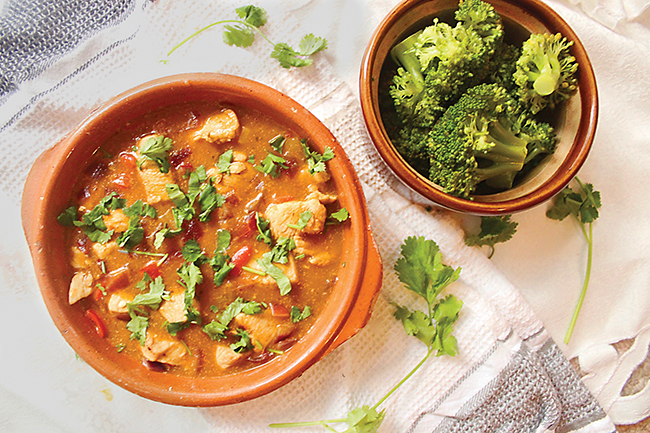 Chicken and mango red Thai curry
By Jay Geraghty (www.thephysiquegeek.com)
Serves 1 | Prep 10 mins | Cook 25 mins | Calories 737 (per serving)
GF DF EF
Ingredients
150g (5½oz) chicken breast
2 tsp coconut oil
20g (¾oz) red curry paste
30ml (1¼fl oz) coconut milk
1 garlic clove, peeled, crushed
½ tsp fresh ginger, grated
1 red chilli
1 red onion, peeled
150ml (5fl oz) gluten-free chicken stock
100g (3½oz) mango
70g (2¾oz) broccoli
Method
Heat the oil in a pan over a medium-high heat. Add the garlic, ginger, chilli and onion and sauté until the onion is starting to soften.
Add the chicken and cook until white all over, but still raw inside. Add the curry paste and sauté for 2 minutes until fragrant. Add the coconut milk and chicken stock. Bring
to a simmer, stirring to dissolve the curry paste into the liquid.
Chop the mango into small cubes and blend in a blender until smooth, then add the mango to the curry mixture.
Turn the heat down to medium and simmer for 12-15 minutes, stirring occasionally, until the sauce is thickens. Serve with broccoli.
---
About the author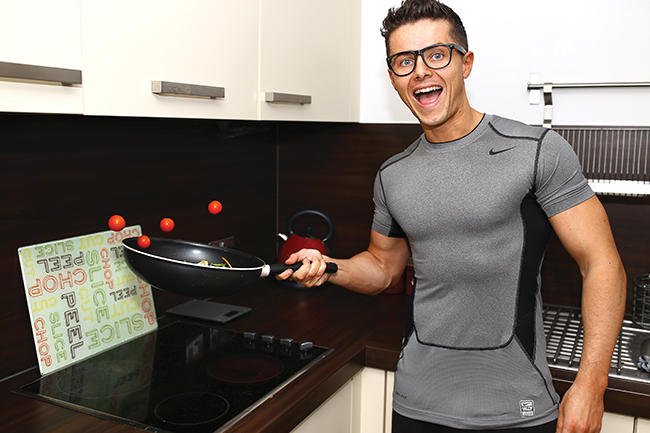 Jay Geraghty of The Physique Geek is an online nutrition coach and the creator of the 90-day SMT program. He creates tailored fat loss programs, which take into account intolerances, allergies and food preferences to transform the bodies and lives of his clients forever, without changing their normal routines.
Jay has created his program to help cut through the fad-diet noise and to give his clients the delicious, easy to prepare meals, tools and expert advice they need to start improving their health and transform into the best shape of their life. www.thephysiquegeek.com. 
Tags:
Chicken
,
Curry
,
Dairy-Free
,
Dairy-Free Diet
,
Dairy-Free Dinner
,
Dairy-Free Recipes
,
Egg-Free
,
Gluten-Free
,
Gluten-Free Diet
,
Gluten-Free Dinner
,
Gluten-Free Recipes
,
Indian Food
,
Thai