Did the final episode of the Great British Bake Off leave you feeling inspired to create your own meringue tower? Why not give this stunningly elegant chocolate cherry pavlova recipe a try!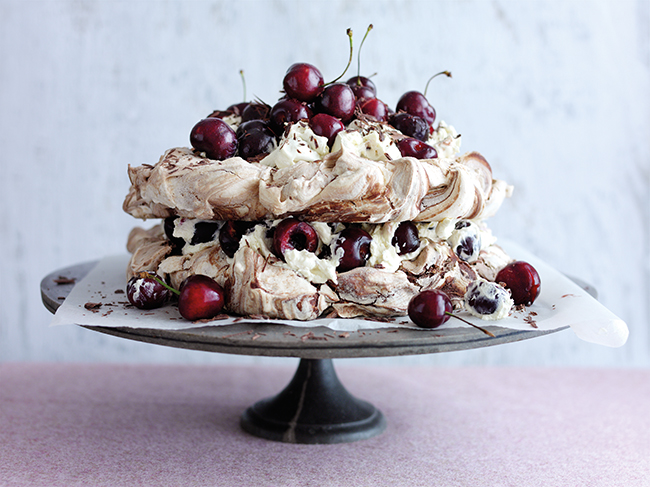 Chocolate cherry pavlova
By Rosie Birkett for Seasonal Berries (www.seasonalberries.co.uk)
GF MF
Serves 8-10 | Prep 30 mins | Cook 35-40 mins | Calories 543 (per serving)
Ingredients
100g (3½oz) dark chocolate, melted and cooled
4 free-range egg whites
220g (8oz) caster sugar
½ tsp white wine vinegar
100g (3½oz) roasted hazelnuts, chopped
Filling/topping:
450ml (15fl oz) double cream
500g (1lb 1oz) cherries, pitted
a glass of marsala
10g (¼oz) dark chocolate, for grating
Method
1 Place the cherries in a bowl and cover with the marsala, toss through the wine until well coated and set aside.
2 Preheat the oven to 170ºC/Gas Mark 3 and line two baking sheets with baking parchment. Whisk the egg whites until soft peaks form, then gradually add the sugar, whisking constantly until thick and glossy, and vinegar. Pour the melted chocolate down the sides of the bowl, turning to distribute evenly, then fold it all through with the nuts.
3 Spread a circle of the chocolate and hazelnut meringue about 20-25cm (8-10in) diameter on each baking sheet. Bake for 35-40 minutes until they peel away easily from the parchment, then carefully lift onto wire racks to cool. Peel the parchment from the meringues then, using a wide palate knife, lift them onto a serving platter or cake stand.
4 Whip the cream just to soft peaks, then drain the marsala from the cherries into the cream and fold through, along with half of the cherries. Spread just over half of the mix on the bottom layer of meringue, top with the other disc of meringue, the remaining cream mix and then the leftover cherries. Grate over the dark chocolate and serve.