Coconut Blueberry Muffins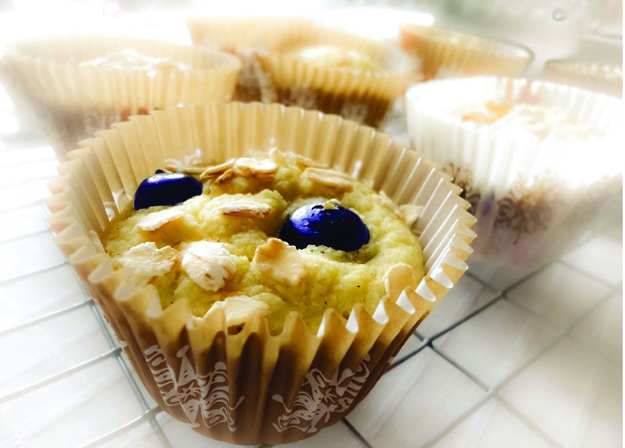 Coconut Blueberry Muffins
By Michelle Kickham (www.glutenfreeandallthingsnice.com)
Makes 10 | Prep 20 mins | Cook 22-25 mins | Calories 109 (per muffin)
Ingredients
100g (3½oz) sweet
White sorghum flour
45g (1½oz) plus 2 tbsp
Coconut flour
1 tsp gluten-free
Baking powder
½ tsp bicarbonate of soda
240g (9oz) Greek yoghurt
1 tsp vanilla extract
3 tbsp coconut sugar
¼ tsp stevia extract
120ml (4fl oz) milk
5 free-range egg whites
1 tsp finely grated
Lemon zest
1 tsp finely grated
Orange zest
1 tsp lemon juice
150g (5½oz) blueberries
Method
Preheat the oven to 180ºC/Gas Mark 4. Line a 12-hole muffin tin with 10 cupcake cases and spray the cases with non-stick spray.
In a medium sized bowl, whisk together the coconut flour, sorghum flour, coconut sugar, baking powder and bicarbonate of soda. Whisk in the stevia extract.
In a large bowl, whisk together the remaining wet ingredients, including the citrus zests. Slowly add the dry ingredients to the wet ingredients, until incorporated.
Fold in the blueberries, then divide the mixture among the muffin cases.
Bake in the oven for 22-25 minutes, or until well risen and a toothpick inserted into the centre of a muffin comes
out clean.
Leave to cool on a wire rack, then store in in an airtight container in the fridge for about 3 days.
Tags:
Gluten-Free
,
Gluten-Free Dessert
,
Muffins
,
Sugar-Free Dessert