Back in the February/March issue of Gluten-Free Heaven, Deputy Editor Nick got the chance to spend the day at Hugh Fearnley-Whittingstall's River Cottage, learning about gluten-free cooking and having a go at making a variety of bakes.
Here's a peak back to that issue, where Nick tells us all about his experience…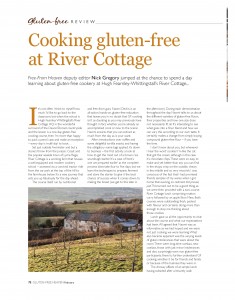 It's not often I think to myself how much I'd like to go back to the classroom, but when the school is Hugh Fearnley Whittingstall's River Cottage HQ in the wonderful surround of the Devon/Dorset countryside and the lesson is a one-day gluten-free cooking course, then I'm more than happy to pack a pencil case and make an exception – every day is 'mufti day' to boot…
Set just outside Axminster and but a stone's throw from the Jurassic Coast and the popular seaside town of Lyme Regis, River Cottage is a working farm that houses a well-equipped and modern cookery school – accessed via a convivial tractor ride from the car park at the top of the hill to the farmhouse below. It's a wee journey that sets you up fabulously for the day ahead.
The course itself, run by nutritionist and free-from guru Naomi Devlin, is an all-action, hands-on, gluten-free education that leaves you in no doubt that GF cooking isn't as daunting as you may previously have thought. In fact, whether you're already an accomplished cook or new to the 'scene', Naomi ensures that you can extract as much from the day as is your want.
After introductions over coffee and some delightful tortilla snacks, and having the obligatory name tags applied, it's down to business – the first activity a look at how to get the most out of a brown rice sourdough starter. It's a case of 'here's one we prepared earlier' as the complete process does take four to five days, but we learn the techniques to prepare, ferment and store the starter to give it the best chance of success when it comes down to making the bread (we get to this later in the afternoon). During each demonstration throughout the day, Naomi talks to us about the different varieties of gluten-free flours, their properties and how one size does not necessarily fit all. It's interesting to see what goes into a flour blend and how we can vary this according to our own taste. It certainly makes a change from simply buying compound gluten-free flour – if you have the time.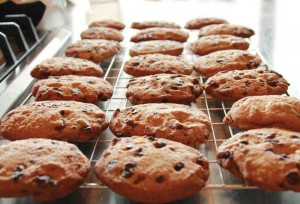 I don't know about you, but whenever I hear the word 'cookies' I'm like the cat that got the cream, although in this case it's chocolate chips.These were so easy to make and yet better than any you can find in the shops; crisp on the outside, chewy in the middle and so very moorish. I was conscious of the fact that I had promised friends samples of my wares when I got home that evening, so restraint did prevail, just.This turned out to be a good thing, as we were then provided with a two-course River Cottage lunch comprising mutton curry followed by an apple Eton Mess. Both courses were outstanding; fresh, packed with flavour and certainly doing more than enough to stop me thinking about those cookies.
Lunch gave us all the opportunity to chat about the course and what our expectations had been. All agreed that Naomi was as informative as we had hoped and we were not just cooking, we were learning. What also became apparent was the varying levels of gluten intolerances that were about the room.There were long-time coeliacs, new coeliacs, those with just minor intolerances and also, surprisingly, even non gluten-free participants, there to further understand GF cooking, whether it be for friends and family or because of the business they were in.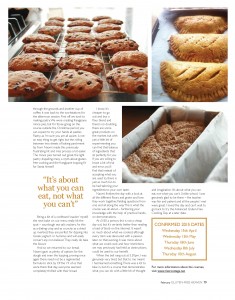 The drowsy effects of an ample lunch having subsided after a leisurely walk through the grounds and another cup of coffee, it was back to the workstations for the afternoon session. First off we took to making pastry.We were creating frangipane mince pies, but for those going on the course outside the Christmas period, you can expect to try your hands at pasties. Pastry, as I'm sure you are all aware, is not an easy thing to get right, but the rolling between two sheets of baking parchment tip from Naomi made this previously frustrating hit and miss process a lot easier. The mince pies turned out great, the light pastry dispelling many a myth about gluten- free cooking and the frangipane topping fit for Santa himself.
Being a bit of a confessed 'snacker' myself, the next bake on our menu really hit the spot – sourdough sea salt crackers. As thin as a dieting crisp and as crunchy as a dried up riverbed, they are perfect for dipping into Greek yoghurt or hummus and will easily convert any non-believer. They really do take the biscuit.
And so we returned to our bread. Naomi gave us plenty of options for the dough and even the topping, proving once again there need not be a regimented formula to stick by. Of the 19 of us that were there that day, everyone seemed completely thrilled with their bread.
I know it's cheaper to go out and buy a flour blend and there's no doubting there are some great products on the market, but with just a little bit of experimenting you can find that balance of ingredients that sit perfectly for you. If you are willing to brave a bit of trial and error, you'll find that instead of accepting what you are used to, there is just as much fun to be had tailoring your ingredients to your own taste.
Naomi finishes the day with a look at all the different flours and grains and how they work together, fielding questions from one and all along the way. This is what the course was all about – furthering your knowledge with the help of practical hands- on demonstrations.
At £180 a person, this is not a cheap day out, but it's certainly better than reading a load of blurb on the internet. It wasn't so much about what we cooked, although every item was devoured with a passion later on that evening, it was more about what we could cook and how restrictions we may previously had held as obstructions, could be used to our benefit.
When the bell rang out at 5.30pm, I was genuinely very tired, but that to me meant I had learned something.There was a lot to take in, but it's a course that demonstrates what you can do with a little bit of thought and imagination. It's about what you can eat, not what you can't. Unlike school, I was genuinely glad to be there – the teacher was fair and patient and all the people I met were great. I loved the day and can't wait to go back to try the Advanced Gluten-Free Cooking Day at a later date.
Get the magazine
You can get your hands on past issues of both Gluten-Free Heaven or Free-From Heaven to see plenty more articles like this one. You can find out more about the latest issue of Gluten-Free Heaven here.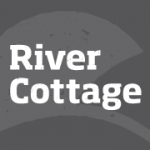 Find out more about River Cottage and the classes on offer over on the River Cottage website.
Have you been to River Cottage, or any other gluten-free cookery classes? If so what did you think? Let us know in the comments!