This stunning elderberry, pear and hazelnut cake is simply bursting with luscious elder flower cream, tart elder flower jelly, and a delicately spiced pear and cinnamon cream, finished off with lashings of deliciously sweet buttercream. It  takes a little bit of time to put together, but you can be sure that it will be worth all the love and attention, as this is a real showstopper!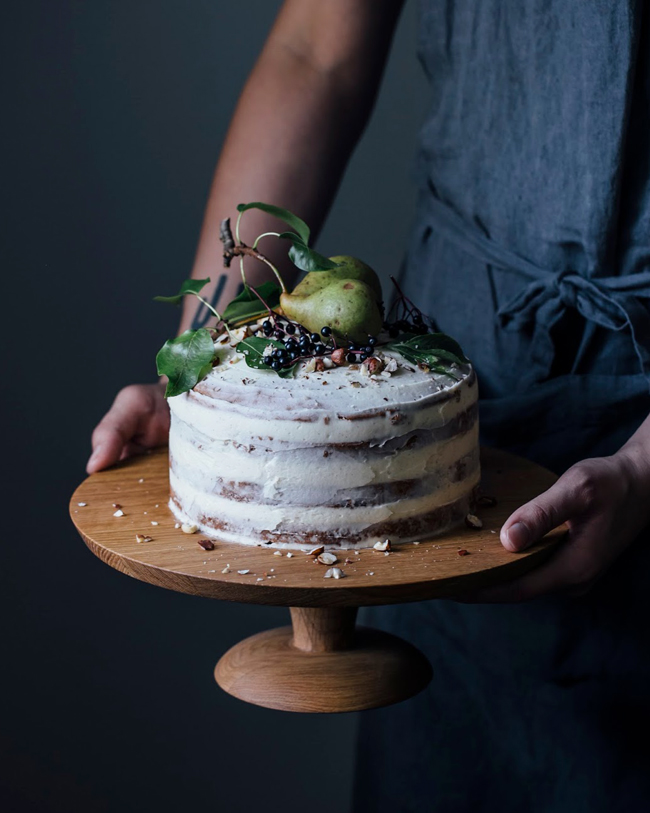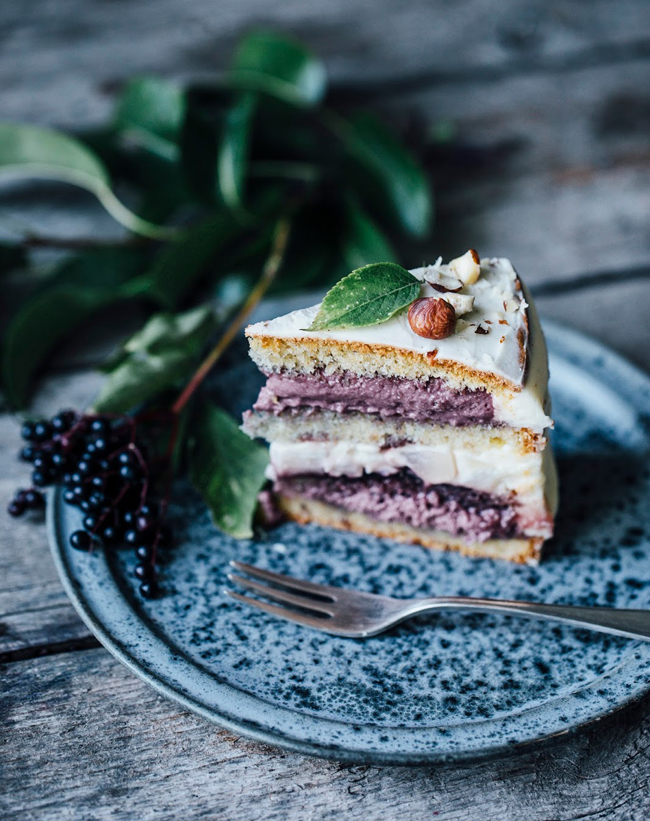 Elderberry, Pear and Hazelnut Cake
By Nora Eisermann and Laura Muthesius (www.ourfoodstories.com)
Serves 10-12 | Prep 60 mins | Cook 60 mins
GF MF
Cake batter:
4 eggs
120g sugar
1 dash of salt
75g butter
75g cornstarch
2 tsp organic tartar baking powder
150g ground hazelnuts
2 tbsp milk
Elderberry cream:
100ml elderberry juice (unsweetened)
100g sugar
150g mascarpone
150g heavy cream
1 pk agar-agar (or 6g)
Elderberry jelly:
150ml elderberry juice (unsweetened)
2g agar-agar (1/3 pck)
Pear cinnamon cream:
160g pears (peeled & cored)
2 tbsp sugar
1/2 vanilla bean
1/2 tsp cinnamon
120ml water
65g mascarpone
80g heavy cream
1pk agar-agar (or 5-6g)
Butter cream:
140g butter, room temperature
240g powdered sugar
1/2 vanilla bean
2-3 tbsp milk (optional)
Decoration:
1 handful chopped hazelnuts
1-2 small pear
1-2 elderberry umbels
Prepare the cake batter:
1 Preheat oven to 175degrees celsius top/bottom heat.
2 Liquify butter plus salt in a small saucepan and let cool down for a moment. Line a springform pan with baking parchment and grease the sides.
3 Separate eggs, beat egg whites half stiff. Continue beating and gradually add half of the sugar. Beat 1-2min longer. Beat remaining sugar together with the egg yolks for 2min and fold the egg yolks gently in the beaten egg whites, then fold in the liquid butter.
4 Blend baking powder with the cornstarch and sieve in 3 portions to the egg mixture – stir in with a cooking spoon. then fold in the ground hazelnuts, at last the milk.
5 Fill the cake batter into the springform pan and bake for 45-50min on the middle oven rack, then let cool down the cake with opened oven door for 5-10min. afterwards place on a cooling rack and remove from springform pan after 10 more minutes.
Elderberry cream:
1 Boil down elderberry juice and sugar for 10min.
2 Whip the heavy cream and chill for a moment in the fridge.
3 Stir agar-agar in the elderberry syrup and boil for 1min (as said on packing instructions), then quickly fill into a mixing bowl and stir mascarpone in with a whisk.
4 Stir in whipped cream in 2-3 portions and let chill in the fridge to turn more firm (about 1hour or longer). In the meantime prepare the elderberry jelly & pear cream.
5 Cut cake with a bread knife into 4 cake layers. stir agar-agar in the elderberry juice and boil for 1min, let cool down for a moment until it starts to jelly and spread then on the second cake layer.
6 Peel, core and quarter pears. cook them together with the water, sugar, vanilla pulp, vanilla bean and cinnamon for 5-10min until tender.
7 Sieve the juice, remove vanilla bean, dice pear quarters and place them back in the sieve, so all juice can drain from the pears. Whip heavy cream and let cool in the fridge for a moment.
8 Measure 100ml pear juice and stir in the agar-agar. boil for 1min, fill quickly into a mixing bowl and mix in the mascarpone. Fold in the whipped cream and in the end the pear dices.
9 Place in the fridge for 20min until the cream turns more firm, then spread on the cake layer on top of the elderberry jelly. Let cool in the fridge. when the elderberry cream is firm enough, spread on the bottom cake layer and third cake layer and leave in the fridge until you've prepared the butter cream.
Buttercream: 
1 Sieve powdered sugar. stir butter and vanilla pulp for 1-2min with the dough hook of your hand mixer, then add gradually the powdered sugar. Add some milk (by tablespoons), if the frosting is to firm.
2 Fill the buttercream into an piping bag with a round icing tip. Put the cake layers on top of each other and fill the gasps between the cake layers with buttercream – the buttercream should ooze out a bit of the gaps. Then smooth the sides with a spatula (if you have a cake stand, you can spin it slowly and hold the spatula still).
3 Spread the remaining butter on the cake top in circles and flatten with the spatula. Leave the cake in the fridge 10min before you start serving and decorate with chopped hazelnuts, elderberries, small pears or similar.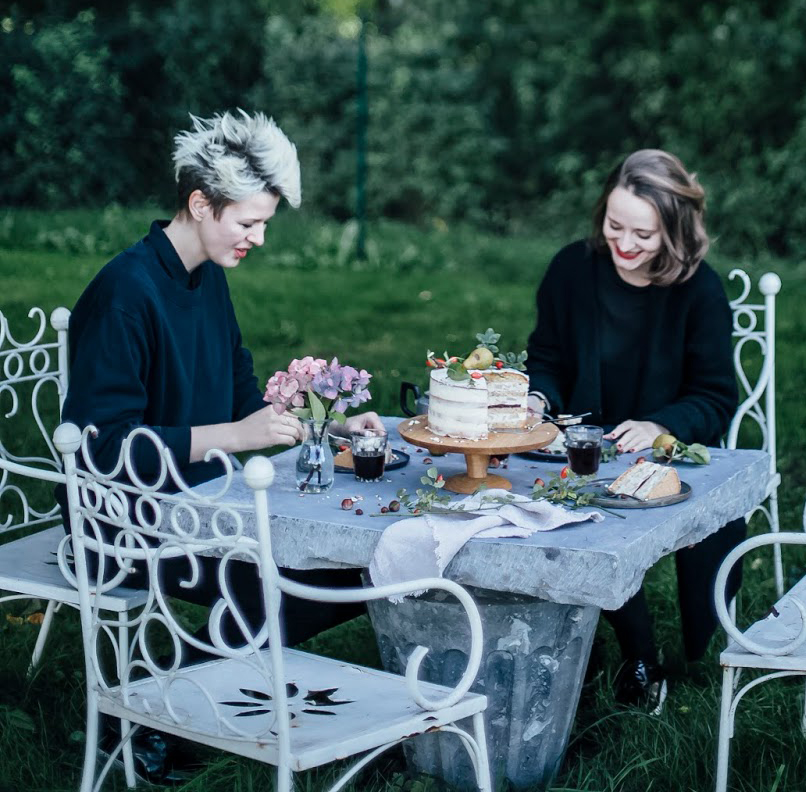 About the authors: Nora studied fashion design, and is now working as a (food)stylist,  and Laura, who studied photography, works as a photographer. They decided to start their blog, Our Food Stories, while Laura was feeling unwell due to her gluten- and histamine-intolerance. They started to cook together every day, and while they were looking for recipes they realised that there were very few recipes that were both low on histamine and gluten-free. They want to show people how easy and delicious it is, to prepare gluten-free meals, and that your gluten-free lifestyle does not mean you have to miss out on delicious food. You can get in touch with Laura and Nora on Facebook, Twitter and Instagram.