Genius Gluten Free plain and cinnamon & raisin bagels are now vegan
Popular gluten free brand Genius have announced that both their Plain and Cinnamon & Raisin bagels are "now suitable for vegans".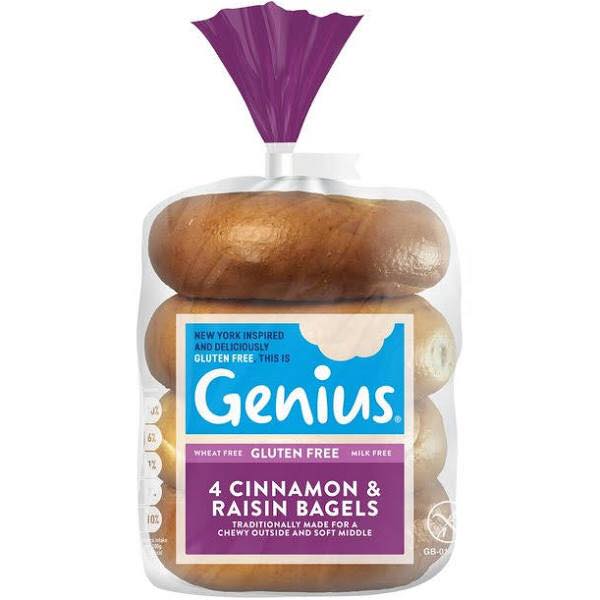 Genius, a stand-out brand for those of us who are gluten intolerant but still crave a decent bread roll, have announced that two of their products are now also dairy-free.
Both the Plain and Cinnamon & Raisin bagels will now be suitable for vegans, though not yet for those with serious egg allergies due to "the handling of egg for other goods" in their bakery.
These gluten-free bagels join the Plain and Beetroot & Kale Wraps, the Carb Cutter and Protein Punch Bread Crisps and the Fibre Fest and Protein Punch Pasta in the vegan-gluten-free camp. Whether you choose to cut out eggs and dairy for ethical reasons or due to a health problem, this potentially difficult combination of dietary requirements has just been made easier.
Genius make their bagels using the traditional method of boiling and then baking, to achieve an "authentic chewy outside with a soft middle".
Both products retail at around £2 per pack of four, and are available from Sainsbury's, Asda, Ocado and Waitrose, with the Cinnamon & Raisin variety available at Booths as well.
So, whether you're vegan or not, give them a try for the taste and texture of a traditional bagel without the milk and gluten!
Tags:
Gluten-Free
,
News
,
Vegan and Gluten Free