Gluten & dairy-free Yule log
Christmas just isn't Christmas without a great big chocolatey Yule log!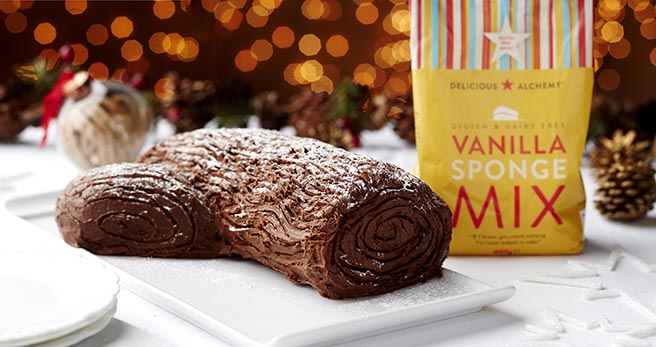 Gluten & dairy-free Yule log
By Delicious Alchemy (www.deliciousalchemy.com)  
Serves 8-10 | Prep 40 mins | Cook 15-18 mins | Calories 684 (per serving)
GF DF
Ingredients
For the sponge:
400g (14oz) Delicious Alchemy Vanilla Sponge Cake Mix
180g (6oz) soft dairy-free spread
3 large free-range eggs
20ml (¾oz) water
2½ tbsp cocoa powder, sieved
5 pieces of dairy-free, gluten-free plain chocolate, melted
For the filling:
175g (6oz) dairy-free, gluten-free plain chocolate, chopped
250g (9oz) icing sugar
225g (8oz) soft dairy-free spread
Method
Preheat the oven to 180°C/Gas Mark 4. Grease and line a 23x33cm (9x13in) baking tray with greaseproof paper. Put the cake mix, spread, eggs, cocoa, melted chocolate and water into a bowl and beat together with an electric whisk for 15 seconds. Scrape down the bowl and mix for a further 10 seconds.
Pour the mixture into the tray and spread into an even layer. Bake for 15-18 minutes until springy to the touch. Leave to cool for 10 minutes.
Dust a large piece of baking paper with icing sugar and carefully flip the warm sponge out onto it and peel off the baking paper. Trim off the edges and cover loosely with a clean tea towel.
While the cake is cooling, make the icing by melting the chocolate in a microwave. Leave to cool. Sieve the icing sugar and add the dairy-free spread and mix until smooth. Add the cooled, melted chocolate and mix again to make a smooth icing.
While the sponge is still flat, spread some of the icing thinly over, going right out to the edges. Use a sharp knife to score a line roughly 2.5cm (1in) from one of the shorter ends – this is the side you will be rolling; it will help you when rolling the sponge, but be careful not to cut all the way through. From this end, roll up the sponge tightly. Cut 2.5cm (1in) off the end at a slight angle, reserving the remnants, and place the yule log on a board or long dish. Add the slice you've just cut to create a branch coming off the big log.
Spread the yule log and branch with the remaining icing and leave to set in the fridge for 20 minutes. Once chilled, create a wood-like texture by marking along the length of the log with a skewer, and draw circles on each end to create tree rings. To create a freshly fallen snow effect, finish your festive masterpiece with a dusting of icing sugar and decorations of your choice.
Comments
Tags:
Chocolate
,
Christmas
,
Dairy-Free Christmas
,
Dairy-Free Dessert
,
Dairy-Free Recipes
,
Gluten-Free Christmas
,
Gluten-Free Dessert
,
Gluten-Free Recipes