Broccoli & banana bread
This weird yet wonderful recipe must be tried to be believed! It's deliciously moist and flavoursome, and packed full of goodness!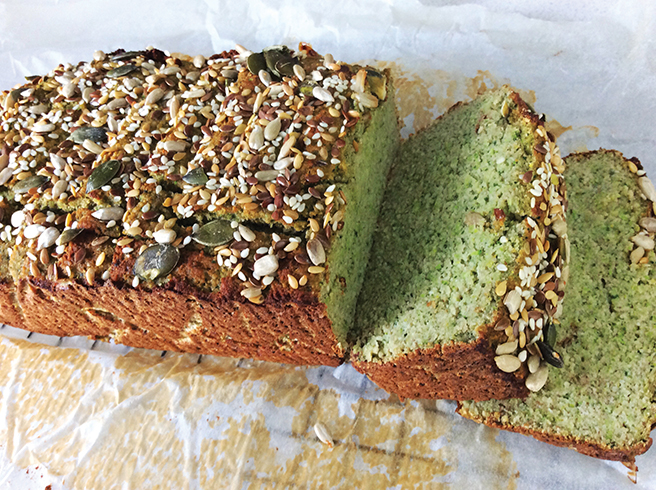 Broccoli & banana bread
By Angela Warren (www.imperfectly-paleo.blogspot.co.uk)
Serves 6 | Prep 15 mins | Cook 45-50 mins | Calories 252 (per serving)
GF DF V
Ingredients
75g (2¾oz) cashew nuts
2 ripe bananas, peeled
350g (12oz) broccoli
4 free-range eggs
75g (2¾oz) coconut flour
½ tsp bicarbonate of soda
1 tbsp cinnamon
1 tbsp vanilla extract
a pinch of salt
60-120ml (2-4fl oz) honey (optional)
Method
Preheat oven to 180°C/Gas Mark 4. Line a loaf tin with baking parchment.
Add the cashew nuts to a food processor and blitz until finely chopped. Add the broccoli and banana and continue to process. Add the flour and process. Add the eggs, vanilla, salt, cinnamon, bicarbonate of soda, honey (if desired) and process until well combined, scraping down the sides if necessary.
Transfer the mixture to the loaf tin and bake in the oven for 45-50 minutes, or until the bread springs back to the touch and a skewer inserted into the centre comes out clean. The top should be lightly golden.
Allow to cool for 5 minutes in tin, before transferring to a wire rack to cool completely.
The loaf is best stored in the fridge, loosely wrapped in kitchen paper in an airtight container.
---
About the author

Angela Warren is passionate about real food, health and fitness. She loves to cook, eat, share and laugh and shares her recipes on her blog, Imperfectly Paleo.
Tags:
Dairy-Free
,
Dairy-Free Diet
,
Dairy-Free Recipes
,
Gluten-Free
,
Gluten-Free Bread
,
Gluten-Free Diet
,
Gluten-Free Recipes