Gluten-free cod fish cakes
Thou shalt have a fishy on a little dishy for dinner tonight, or rather gluten-free cod fish cakes!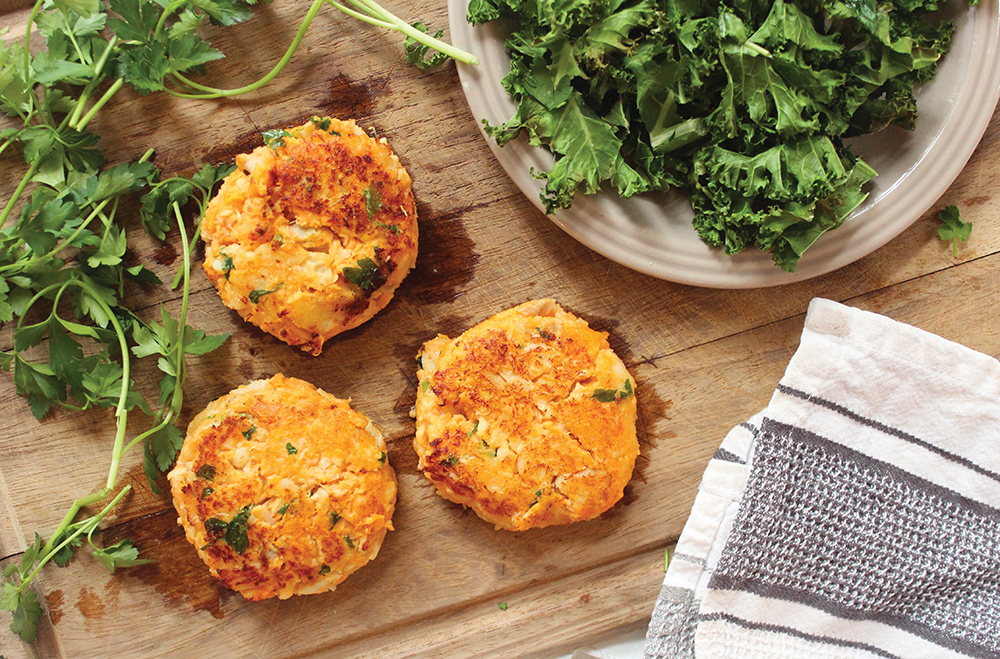 Gluten-free cod fish cakes
By Jay Geraghty (www.thephysiquegeek.com)
Makes 4 | Prep 10 mins plus chilling | Cook 30 mins | Calories 145 (per fishcake)
GF SF DF
Ingredients
220g (8oz) cod
180g (6oz) sweet potatoes
1 tsp coconut oil
1 tsp parsley
1 free-range egg
salt and freshly ground black pepper
70g (2¾oz) kale, to serve
Method
Preheat the oven to 190°C/Gas Mark 5.
Add the potatoes to a pan of boiling water and cook until tender.

 

When cooked, drain, mash, then set aside.
Bake the cod in the oven for 15 minutes until cooked, Mix the fish, mashed potato, parsley and egg together until well combined. Season with salt and pepper. Reduce the oven temperature to 150°C/Gas Mark 2 and bake the kale for 15 minutes until crispy.
Shape the mixture into 4 patties and set aside to chill in the fridge for 1 hour.
Heat the coconut oil in a frying pan and fry the fish cakes until golden brown on each side and heated right through. Serve the fishcakes with the crispy kale.
About the author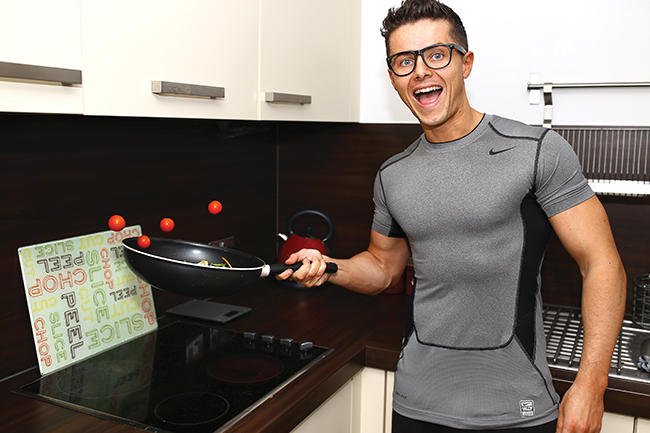 Jay Geraghty of The Physique Geek is an online nutrition coach and the creator of the 90-day SMT program. He creates tailored fat loss programs, which take into account intolerances, allergies and food preferences to transform the bodies and lives of his clients forever, without changing their normal routines.
Jay has created his program to help cut through the fad-diet noise and to give his clients the delicious, easy to prepare meals, tools and expert advice they need to start improving their health and transform into the best shape of their life. www.thephysiquegeek.com
Tags:
Dairy-Free
,
Dairy-Free Diet
,
Dairy-Free Dinner
,
Dairy-Free Lunch
,
Dairy-Free Recipes
,
Fish
,
Gluten-Free
,
Gluten-Free Diet
,
Gluten-Free Dinner
,
Gluten-Free Lunch
,
Gluten-Free Recipes
,
Recipes
,
Sugar-Free Diet
,
Sugar-Free Dinner
,
Sugar-Free Lunch
,
Sugar-Free Recipes