Gluten-free fruit loaf
This refined sugar free, dairy and gluten-free fruit loaf contains no coconut oil (in fact no oil at all!), no bananas and no eggs!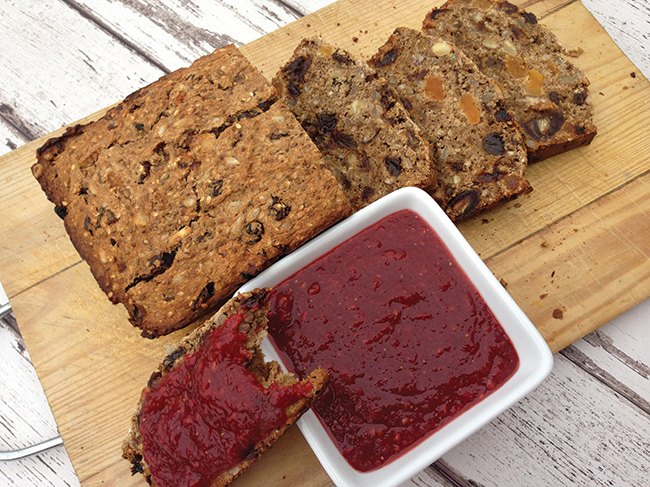 Gluten-free fruit loaf
By Hedi Pavelcova (www.hedihearts.com)     
Serves 8-10 | Prep 20 mins | Cook 55 mins | Calories 362 (per slice)
GF DF EF V MF
Ingredients
1 cup buckwheat flour
1 cup oat flour (just oats processed into flour in a food processor)
1 tsp baking powder
1/2 tsp nutmeg
1 tsp cinnamon
2/3 cup raisins
2/3 cup chopped dates (just normal ones, don't use Medjool)
1/2 cup chopped dried apricots
1/3 cup coconut sugar
3/4 cup mixed crushed nuts (I used almonds, walnuts and hazelnuts)
3/4 cup mixed seeds (I used sunflower seeds, sesame seeds and flax-seeds)
2 chia eggs (2 tbsp chia seeds + 6 tbsps of water, mix and let sit for 10 min)
1 cup non dairy milk
1 tsp vanilla extract
Method
Preheat the oven to 180

º

C/Gas Mark 4. Grease a loaf tin.
Place the dates, apricots, raisins and coconut sugar in a bowl. Mix and set aside.
Mix the buckwheat flour, oat flour and baking powder in another bowl. Add all the spices and seeds and mix together.
Once the chia egg is set, add it into the fruit bowl along with the milk and vanilla, then add the flour mixture and stir together until well combined.
Spoon the dough into the tin, then bake in the oven for about 55 minutes, or until a toothpick inserted into the centre comes out clean.
Tags:
Dairy-Free Recipes
,
Egg-Free
,
Gluten-Free
,
Gluten-Free Bread
,
Gluten-Free Dessert
,
Gluten-Free Diet
,
Gluten-Free Recipes
,
Vegan Recipes