Gluten-free pumpkin cheesecake
Celebrate Halloween in spooktacular style with this lusciously smooth and creamy gluten-free pumpkin cheesecake.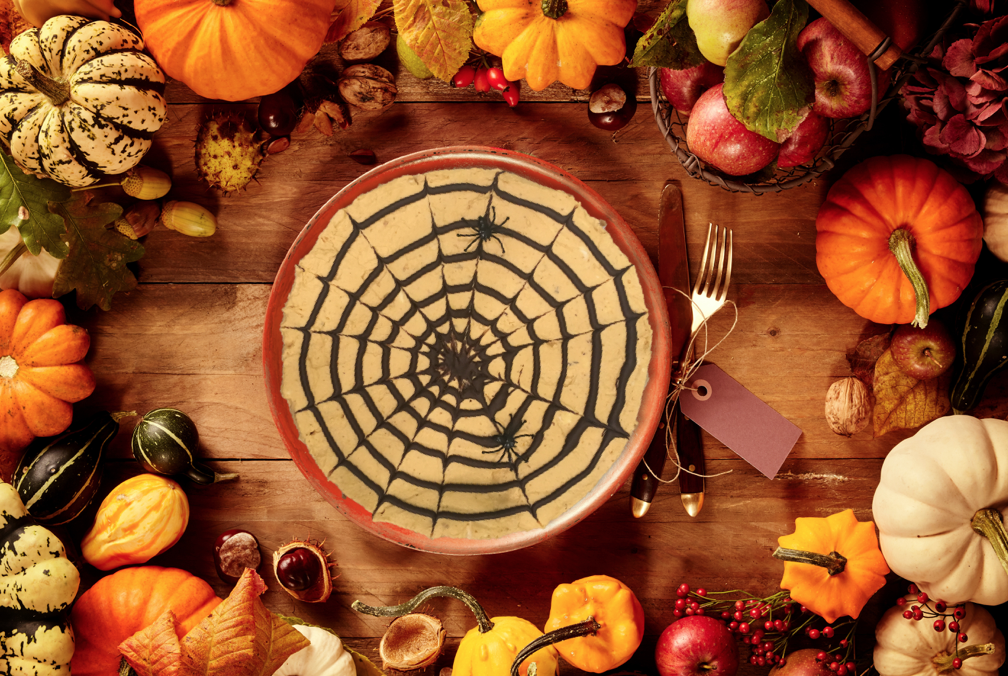 Gluten-free pumpkin cheesecake
GF EF V MF
Ingredients
For the base:
125g butter
1tsp nutmeg
1tsp cinnamon
For the filling:
560g full fat cream cheese
1tbsp vanilla extract
495g pumpkin puree
250g icing sugar
200ml double cream 
For the topping:
100g gluten free, dark chocolate
1tbsp vegetable oil
Method
For the base: Place the Schär Digestive Biscuits into a freezer bag and crush with a rolling pin.
Melt the butter and spices together and then stir the melted ingredients into the biscuits.
Press the biscuits into a loose bottom 10-inch tin and set aside.
For the filling: Whip the cream cheese, vanilla extract and pumpkin puree together. Once mixed, gradually (and gently) add in the icing sugar.
Once mixed, whip in the double cream until the mixture becomes stiff. Be careful not to over-beat, as this will curdle the mixture.
Place the filling on top of the biscuit base before placing in the fridge to set overnight.
For the topping: Melt the dark chocolate and stir in the vegetable oil; this helps prevent the chocolate from setting.
Place the melted chocolate into a piping bag with a thin circular nozzle. Pipe a large circle around the edge of the cheesecake, repeat this on the inside of the original circle, and continue to the middle of the cheesecake. Do this until you have a small dot of chocolate in the centre of the cheesecake.
With a toothpick, starting from the small dot in the middle of the cheesecake, drag the chocolate lines outwards to resemble a spider web.
Autumn
,
Cheesecake
,
Egg-Free
,
Gluten-Free
,
Gluten-Free Cake
,
Gluten-Free Halloween
,
Gluten-Free Recipes
,
Recipes
,
vegetarian dessert