Gluten-free Scotch pancakes 
These light and fluffy gluten-free Scotch pancakes are a sumptuous breakfast treat, especially when topped with your favourite yoghurt and fresh fruit.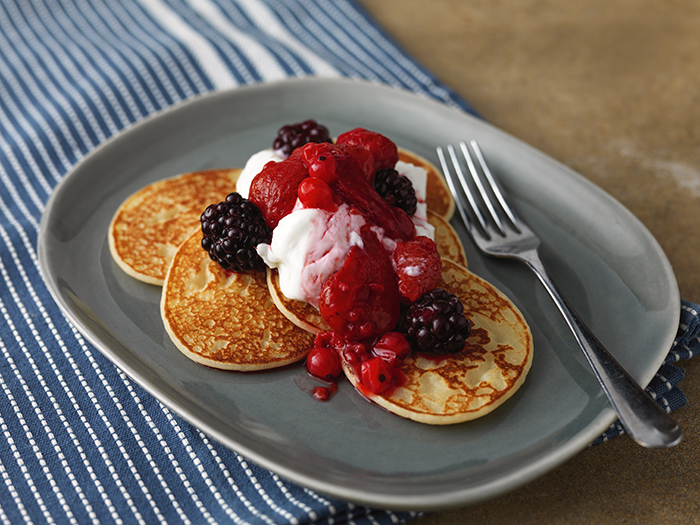 Gluten-free Scotch pancakes 
Makes 9 Scotch pancakes
GF V
Ingredients 
25g caster sugar
1 large egg
½ tsp vanilla extract
75g natural yoghurt
50ml milk
3 tsp vegetable oil
To serve:
Golden or maple syrup
Berries  
Method
Place the Schär Mix It! Universal in a bowl and stir in the sugar.
Add the egg, vanilla extract and yoghurt and whisk together with a fork. Add the milk and beat to make a smooth batter.
Heat a large heavy-based frying pan or griddle, add some of the oil and then drop tablespoons of the batter into the pan, allowing a little room for them to spread.
Cook over a medium heat until bubbles appear; this takes about 2 minutes.  Then flip the pancake over with a slice or palette knife and cook the other side until it is golden brown.
Place some greaseproof paper on a cooling rack and place the pancake on top of this. Cover with another piece of greaseproof paper and repeat with each new pancake to avoid them sticking together.
Cook all the batter and if necessary add more oil to the pan.
Serve the pancakes drizzled with golden or maple syrup and a few berries. Or just serve buttered.
Gluten-Free
,
Gluten-Free Breakfast
,
Gluten-Free Diet
,
Gluten-Free Recipes
,
Pancakes
,
Recipes