Gluten-free strawberry layer cake
This stunning yet easy to make gluten-free strawberry layer cake has the lightest of sponges sandwiched together with a cream and strawberry filling. It is just as good made with raspberries or other soft fruit.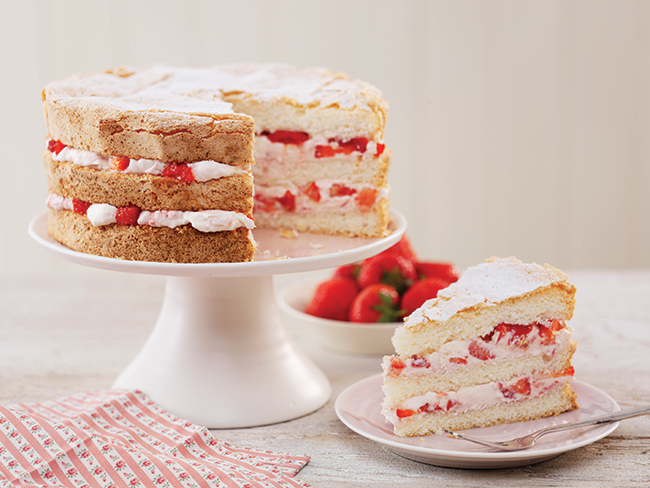 Gluten-free strawberry layer cake
By Doves Farm (www.dovesfarm.co.uk)  
Serves 8 | Prep 25 mins plus chilling | Cook 40 mins | Calories 288 (per serving)
GF
Ingredients
150g (5½oz) potato starch
2 tsp gluten-free baking powder
3 free-range eggs
150g (5½oz) sugar
200ml (7fl oz) double cream
200g (7oz) strawberries
50g (1¾oz) icing sugar
1 tsp vanilla extract
Method
Preheat the oven to 180

º

C/Gas Mark 4. Oil and line a 20cm (8in) cake tin.
Sieve the potato and baking powder into a bowl. Set aside.
Separate the eggs and beat the whites until light and fluffy. Beat in the sugar a spoonful at a time.
In another bowl, beat the yolks until they thicken slightly. Fold the yolk into the egg white using a cutting and folding action. Fold in the sieved potato and baking powder mixture a spoonful at a time.
Put the mixture into the cake tin, then bake in the oven for 40 minutes. Leave to cool.
Whip the cream until thick.
Roughly mash all but a handful of the strawberries, then fold them into the cream. Fold in the icing sugar and vanilla.
Slice the cold sponge into three layers. Divide and spread the strawberry cream over the three sponges.
Place the sponges on top of each other, then decorate with the reserved strawberries.
Tags:
Gluten-Free
,
Gluten-Free Dessert
,
Gluten-Free Diet
,
Gluten-Free Recipes