Gluten-Free Vanilla Cupcakes
Deliciously moist and YUMMY gluten-free vanilla cupcakes with a secret ingredient to hide the floury gluten-free taste!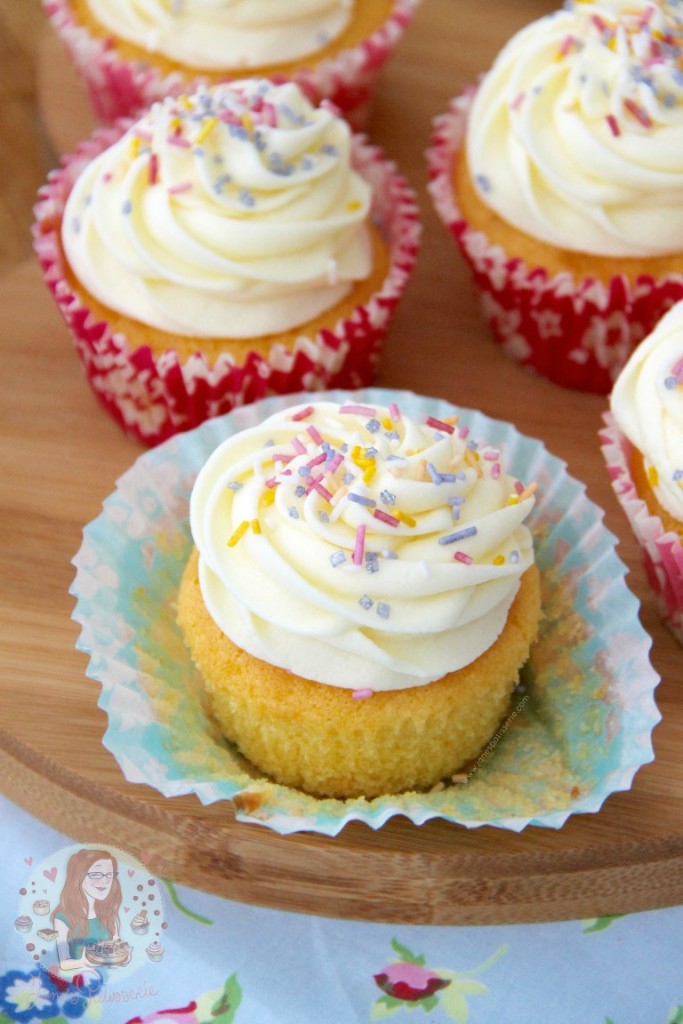 Gluten-Free Vanilla Cupcakes
By Jane Dunn (www.janespatisserie.com)
Serves 12 | Preparation time 15 mins | Baking time 17 mins
GF MF
Ingredients
Cupcakes:
150g Unsalted Butter, Softened
150g Caster Sugar
3 Medium Free Range Eggs (150g), beaten
150g Gluten-Free Self Raising Flour
50g Custard Powder
1/2tsp Vanilla Bean Extract
2tbsp Whole Milk
Vanilla Frosting:
150g Unsalted Butter, Room Temperature
 350g Icing Sugar
2-4tbsp Whole Milk/Double Cream
 1/2tsp Vanilla Extract
Decoration:
Method:
Preheat your oven to 170C/160CFan and Line a 12 Hole Muffin Tray with Large Cupcake Cases/Muffin Cases – leave to one side for now.
Cream together the Butter and Caster Sugar with an electric beater till smooth – add in the Beaten Eggs, Gluten-Free Flour, Custard Powder & Vanilla and beat again for about about 20-30 seconds on a Medium Speed – it really doesn't take too long, you don't want to overheat the mixture! (Add any milk if the mixture is too stiff!)
Spoon into your Cases and Bake in the oven for 15-20 minutes (I baked mine for 17 minutes) or until cooked through! Leave to cool on a wire rack.
To Make the Frosting – beat the softened Butter until smooth – this can take a couple of minutes. Add in the Icing Sugar 1/3 at a time, making sure the sugar is fully incorporated until moving on! I use my KitchenAid for Frostings as the machine can make it so much lighter and fluffier!
Once all of the Sugar is in the Frosting mix, keep on beating the Frosting but add the Vanilla, and then the Milk/Cream 1 tbsp at a time till you reach your desired consistency! I usually use about 3 spoonfuls!
Decorate your cupcakes how you like (I use lots and lots of sprinkles!) – and ENJOY!
Tips & Ideas:
I use Doves Farm Gluten-Free flours for my day-to-day GF baking as its more readily available then other more expensive (and better ones). You can also buy cheaper ones, but I'd recommend this brand if you can find it, as its the best supermarket one that I have found!
If you are GF you will already know this – but if you are baking for anyone else who is GF, then check the ingredients on everything you use!
These Cupcakes will last in an airtight container for 2-3 days!
Comments
Tags:
Cupcakes
,
Gluten-Free Cake
,
Gluten-Free Dessert
,
Gluten-Free Diet
,
Gluten-Free Recipes