Honey Nut Granola
Start your day the right way with this deliciousy chewy granola, thats positively bursting with crunchy, heart-healthy seeds, and tasty dried-fruits.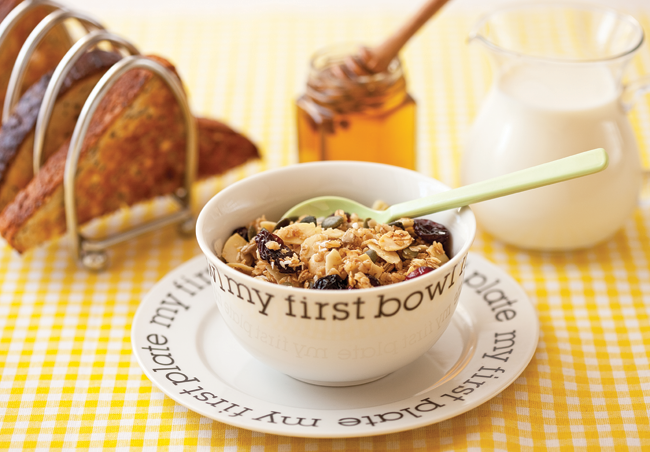 Honey Nut Granola
Serves 14 | Prep 5 mins | Cook 25 mins |
GF DF EF MF
Ingredients: 
2 tbsp vegetable oil
125ml maple syrup
3 tbsp honey
1 tsp vanilla bean paste
300g rolled oats
25g dried cranberries
25g sour cherries
25g dried blueberries
25g jumbo raisins
50g sunflower seeds
50g pumpkin seeds
50g desiccated coconut
50g flaked almonds
Method:
Preheat the oven to 150°C/130°C fan/ gas mark 2.
In a large bowl mix together the oil, maple syrup, honey and vanilla. To this, add the oats and seeds and combine thoroughly.
Spread the granola in a thin layer over two baking sheets and bake for 15 mins.
Remove from the oven and stir through the dried fruits and coconut, then return to the oven for a further 10 mins. Don't be tempted to wait for it to darken in colour or go too crispy, this is a lovely chewy soft bite granola that keeps a lovely texture.
Remove from the oven and tip onto a large sheet of baking paper or another tray to cool. Once cooled you can store this in an clean kilner jar for up to a month, although its unlikely to last more than a day or two as it is really moreish with milk, yoghurt and even on its own!
TIP:
Wipe your tablespoon with oil to help with measuring the honey and maple syrup – it will glide straight off.
Play with flavours, let the children choose their favourites to add in the same quantities, there are lots of dried fruits to choose from!
Tags:
Cereal
,
Dairy-Free Breakfast
,
Gluten-Free
,
Gluten-Free Breakfast
,
Gluten-Free Recipes