Italian style gluten-free flatbread
This tasty Italian style gluten-free flatbread is perfect served alongside pasta dishes or on its own as a starter with olive oil and balsamic vinegar.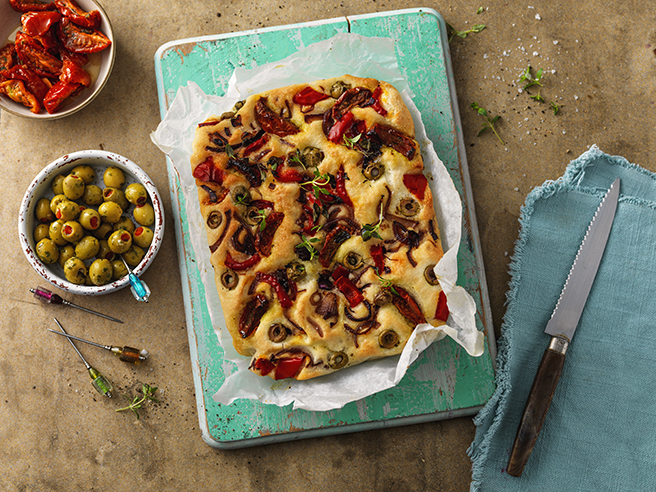 Italian style gluten-free flatbread
Preparation time: 65 minutes | Cooking time: 25-30 minutes 
Ingredients
For the bread:
1½tsp dried yeast
½tsp salt
1tbsp skimmed milk powder
1tbsp (mild) olive oil
350ml hand-hot water
For the filling
1tbsp olive oil
1 medium red onion
1 medium red or yellow pepper
6 tomatoes
8 green olives, chopped or sliced
4 stalks of oregano leaves
Method
Lightly fry the peeled and sliced red onion and peppers in a frying pan to soften.
Combine the Schär Mix It! Universal, yeast, salt and skimmed milk powder together in a bowl. Add the oil and hand-hot water (1/3rd boiling, 2/3rds cold) and stir to make a smooth, stiff batter.
Place half the batter into an oiled tin, layer on the red onion and peppers and sprinkle over half the oregano. Spoon over the remaining batter and top with the remaining filling ingredients. Cover with oiled clingfilm.
Leave to prove in a warm place for 45 minutes or until the mixture has risen by half
Pre-heat the oven to 200°/180°C Fan/Gas Mark 6
Remove the film, drizzle with a little more olive oil and bake in the pre-heated oven for 25- 30 minutes.
Once cool, store in an airtight container in a cool place for up to 3 days. For best results, warm before eating.
Note                
Use 1 small roasting tin or a square 20cm tin, greased. Baking parchment can be used if desired
Gluten-Free
,
Gluten-Free Bread
,
Gluten-Free Diet
,
Gluten-Free Lunch
,
Gluten-Free Recipes