Gluten-Free Key Lime Pie
A calorie conscious, gluten-free take on the classic, zesty key lime pie. This key lime pie is the most perfect dessert to serve up on a summer's day!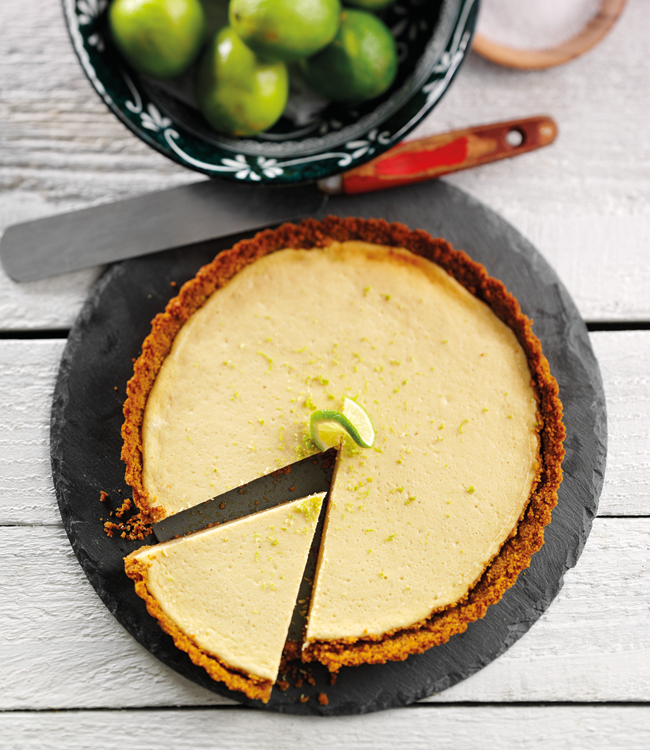 Key Lime Pie
By Truvia® (www.truvia.co.uk)
Serves 6-8 | Prep 25 mins plus chilling | Cook 35-37 mins | Calories 233 (per serving)
GF SF MF
Ingredients
1 packet of sugar-free gluten-free oatmeal or gingersnap cookies, crushed
3 tbsp Truvía

®

calorie-free sweetener
3 tbsp butter, melted
2 tbsp cornflour
1 tin evaporated milk

1⁄

8

tsp salt
4 free-range egg yolks
140ml (5fl oz) lime juice
1 tsp lemon extract
8 tbsp whipped cream (optional)
Method
Preheat the oven to 180°C/Gas Mark 4.
In medium bowl, stir together the biscuit crumbs, 1 tbsp Truvía natural sweetener and melted butter. Press into the bottom and 2.5cm (1in) up the sides of a 23cm (9in) cake tin. Bake in the oven for 10 minutes.
Meanwhile, place the cornflour in a medium bowl. Slowly beat in the milk, then beat in the salt and egg yolks. Add 2 tbsp Truvía, the lime juice and lemon extract and beat well. Pour into the crust (it doesn't matter if the crust is still hot).
Bake for 25-27 minutes, or until the filling starts to set around the edge. The filling will still look runny, but will thicken and set as it cools.
Cool completely on cooling rack. Cover and refrigerate for 8 hours before serving. Top with whipped cream if using.
Tags:
Gluten-Free
,
Gluten-Free Dessert
,
Gluten-Free Diet
,
Gluten-Free Recipes
,
Pie
,
Sugar-Free Dessert