Comfort food doesn't get much tastier than this lamb casserole from Knorr, which is a heart-warming meal that's packed with flavour that the whole family will love!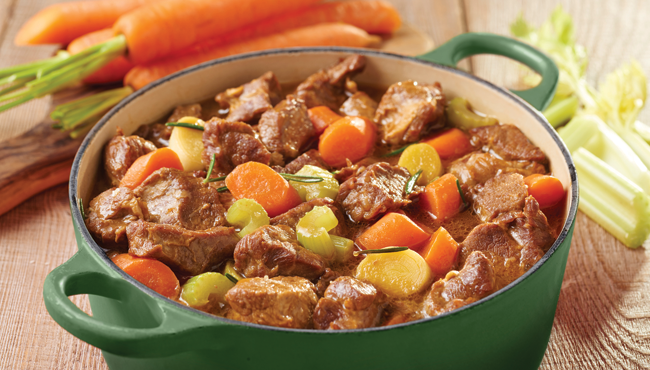 Lamb casserole
By Knorr (www.knorr.co.uk)
Serves 4 | Prep 10-15 mins | Cook 1 hr 20 mins | Calories 345 (per serving)
GF SF DF EF
Ingredients
500g (1lb 1oz) lamb neck fillet, diced into 2cm (1in) cubes
2 tbsp gluten-free flour
1 tbsp vegetable oil
1 onion, peeled, chopped
1 garlic clove, peeled, crushed
150g (5½oz) baby carrots
100g (3½oz) baby leeks, rinsed, cut into bite-sized pieces
2 celery sticks, chopped
2 rosemary sprigs, chopped
1 Knorr Lamb Stock Pot, dissolved in 500ml (18fl oz) boiling water
Method
Preheat the oven to 180°C/Gas Mark 4.
Place the flour in a bowl and toss in the lamb to coat.
Heat the oil in a large frying pan until hot. Add the lamb and fry over a high heat, until browned.

 

Transfer to a casserole dish.
Reduce the heat and fry the onions until soft. Add to the casserole dish with the garlic, carrots, leeks, celery and rosemary.
Deglaze the pan with the Knorr stock, scraping up all the bits that have stuck to the bottom. Add to the casserole and stir to combine.
Cover with a lid and cook for 1-1¼ hours or until tender.