Perfect sweet potato fries
Master the art of baked sweet potato fries with our recipe for the perfect fries! Don't forget to check out our top tips to help you bake deliciously crispy fries, every-time!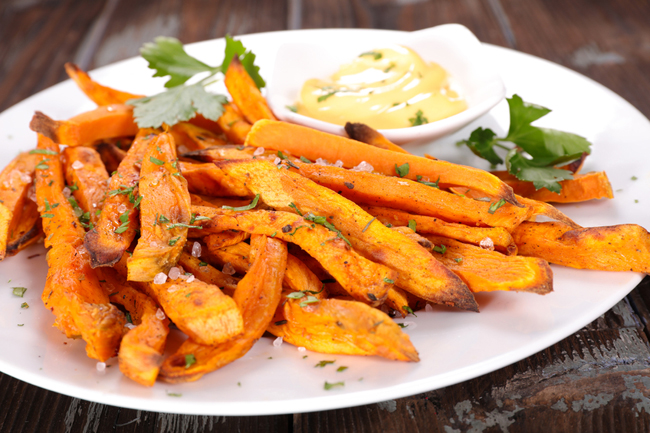 Perfect sweet potato fries
By Rachel Smith (www.rawberryfields.co.uk)
Serves 4 | Prep 15 mins plus soaking | Cook 30-40 mins | Calories 207 (per serving)
Ingredients
4 sweet potatoes, skin removed
1-2 tsp olive oil or coconut oil
salt and freshly ground black pepper
paprika (optional)
garlic powder (optional)
Method
1 Cut the sweet potatoes into 5mm (¼in) slices. Soak in cold water for 45-60 minutes. This draws out the excess starch from the sweet potatoes, helping them to cook all the way through.
2 Preheat the oven to 200°C/Gas Mark 6. Line 1-2 baking trays with greaseproof paper. Warm the tray in the oven.
3 Coat the slices in oil, but not too much or they will be very soft when they come out of the oven. Mix the slices and oil in a large bowl, using your hands to distribute the oil evenly. If you're adding seasoning, do it now as the oil will help the spices stick to the sweet potato.
4 Place the sweet potato slices on the baking trays and cook in the oven for 30-40 minutes (depending on your oven) to allow as much moisture as possible to evaporate to ensure they stay nice and crispy. Turn the fries over halfway through cooking.
5 Once your fries have cooked, turn the oven off and leave them in the oven for an extra 10 minutes so that they have extra time to crisp up without burning.
TIP
The most important thing to remember is not to cook too many fries at once, and to spread them out evenly on a baking tray –  leaving enough room so that they don't touch.
Tags:
Dairy-Free Dinner
,
Gluten-Free
,
Gluten-Free Diet
,
Gluten-Free Dinner
,
Gluten-Free Recipes
,
Paleo Dinner
,
Sugar-Free Dinner
,
Sweet Potato
,
Vegan Dinner
,
Vegetarian Dinner