This recipe for poached pears with chocolate sauce and pistachios is perfect for when you fancy a simple yet sophisticated dessert.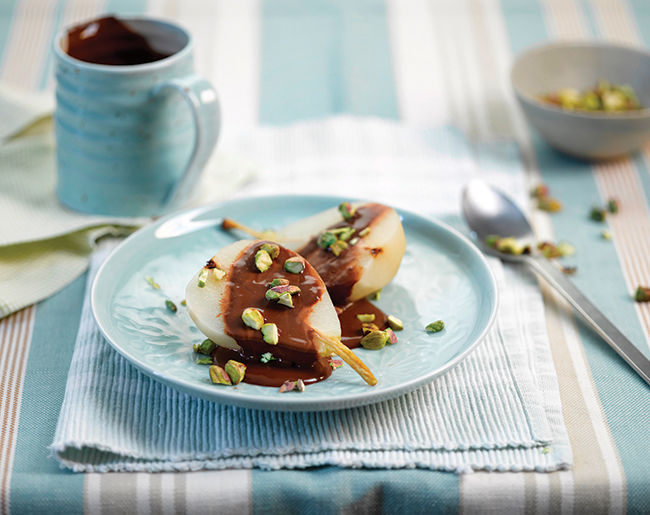 Poached pears with chocolate sauce & pistachios
By Fiona Hunter (www.americanpistachios.co.uk)
Serves 2 | Prep 10 mins | Cook 20-30 mins | Calories 361 (per serving)
GF EF MF
Ingredients
For the poached pears:
25g (1oz) caster sugar
1 cinnamon sick
300ml (10fl oz) water
2 small pears, peeled
For the chocolate sauce:
40g (1½oz) gluten-free plain chocolate
50ml (2fl oz) light evaporated milk
15g (¾oz) shelled pistachio nuts, roughly chopped
Method
Place the sugar, cinnamon stick and water in a small pan and gently heat to dissolve the sugar. Add the pears, then cover and simmer over a low heat for 20-30 minutes, or until the pears are soft.
For the chocolate sauce, melt the chocolate in a small heatproof bowl over a pan of boiling water. Once the chocolate has melted, stir in the evaporated milk.
Remove the pears from the sugar solution, slice in half, then transfer to a serving dish. Drizzle over the chocolate sauce and sprinkle over the pistachio nuts.