Raspberry and White Chocolate Cake
Feast your eyes on this dreamy white chocolate cake,  filled with whipped raspberry cream, and smothered in white chocolate buttercream. And the best part is, this beautiful cake is gluten-free!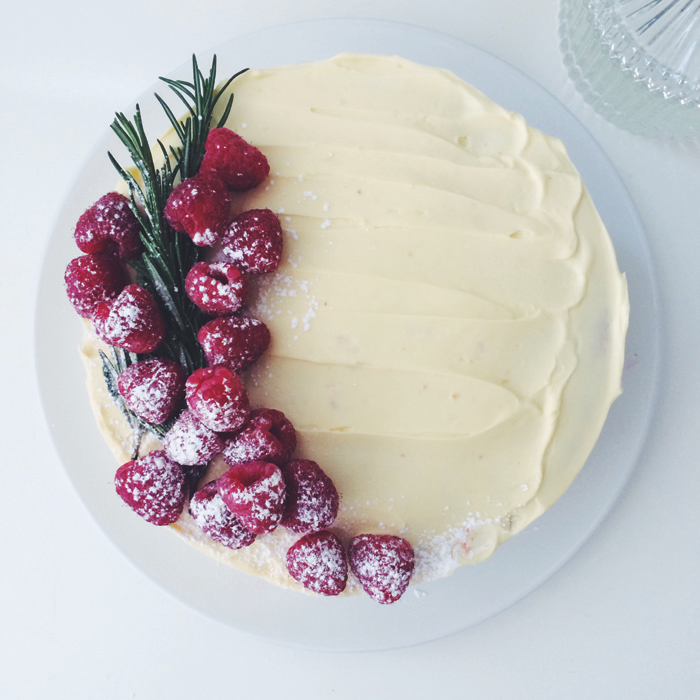 Raspberry and White Chocolate Cake
By Rianna Crowle (www.lovekensa.wordpress.com)   
Serves 12-16 | Prep 30 mins plus chilling | Cook 40 mins | Calories 430 (per serving)
GF MF
Ingredients:
For the cake:
225g (8oz) butter, softened
225g (8oz) caster sugar
1½ tsp vanilla extract
4 free-range eggs
200g (7oz) gluten-free self-raising flour
25g (¾oz) cornflour
1 tsp gluten-free baking powder
4 tbsp milk
1 tsp xanthan gum
For the filling:
500ml (17½fl oz) double cream
225g (8oz) raspberries
For the buttercream:
150g (5½oz) white chocolate, chopped
60ml (2¼fl oz) cream
4 tbsp unsalted butter, softened
For decoration:
100g (3½oz) raspberries
1 tbsp icing sugar
2 sprigs of rosemary
For the cake:
Preheat the oven to 180°C/Gas Mark 4. Grease and line two large round cake tins.
Add all of the cake ingredients to a bowl and mix with an electric mixer. Pour the mixture evenly into both tins and bake in the middle of the oven until the top is golden and springs back when lightly pressed (30-35 minutes).
For the filling:
Whip the double cream in a bowl until thickened and add the raspberries.
Stir with a metal spoon, crushing some of the raspberries to achieve a raspberry ripple effect.
For the buttercream:
Chop the white chocolate into shards and leave to the side in a bowl. Warm the cream in a pan until it simmers. Don't let it boil! Pour the cream over the chocolate and leave for a couple of minutes before stirring until combined. Leave to cool for 10 minutes.
Mix with an electric mixer for 5 minutes until fluffy. Begin adding the butter, a tablespoon at a time, mixing for two minutes after each tablespoon is added.
Use half of the buttercream and spread it over the top of the cake and the sides, then put the cake in the fridge for 20 minutes until the buttercream has set.
Repeat the last step with the remaining buttercream. Decorate with raspberries, sprigs of rosemary and icing sugar. Place in the fridge until 10 minutes before serving.
Tags:
Chocolate
,
Gluten-Free Baking
,
Gluten-Free Cake
,
Gluten-Free Dessert
,
Gluten-Free Diet
,
Gluten-Free Recipes