Mini Gluten-Free Pecan & Maple Syrup Cakes
These mini gluten-free pecan and maple syrup cakes are deliciously moist and light with a wonderful flavour combination of pecan nuts and maple syrup. They're perfect for sharing at afternoon tea!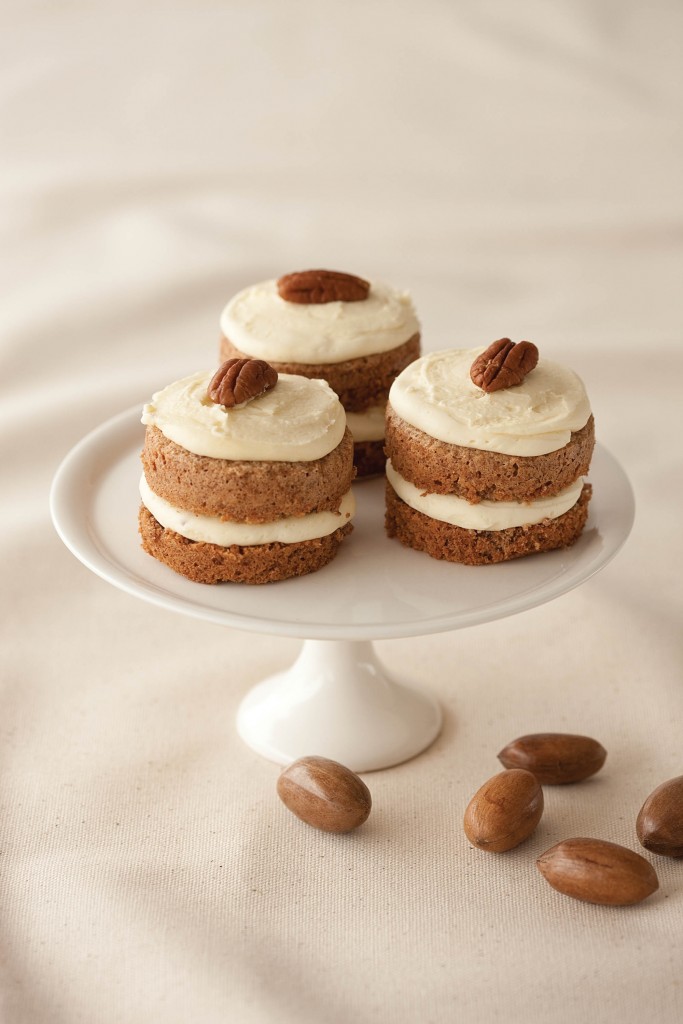 Mini Gluten-Free Pecan & Maple Syrup Cakes
Makes 10 | Preparation time 40 mins | Baking time 12-15 mins
Gluten-Free.
For the cakes:
250g pecan nuts
4 large eggs, separated
150g caster sugar
4 tbsp breadcrumbs, from a gluten free loaf
1/2 tsp cream of tartar
For the maple syrup icing:
150g butter, softened
225g icing sugar, sifted
4 tbsp maple syrup
Pecan halves to decorate
Method
Preheat the oven to 180°C/160°C fan/gas mark 4. Lightly grease 10 holes in a muffin tin (ideally with vertical sides rather than tapered) and line the base of each with baking paper.
For the cakes, place the pecan nuts in a food processor and pulse until finely chopped. Whisk the egg yolks and sugar together in a large bowl with an electric whisk until pale and creamy. Stir in the pecans and breadcrumbs.
Place the egg whites in a clean, grease free bowl along with the cream of tartar then whisk until stiff peaks form. Using a large metal spoon, fold 2 tbsp of the egg white mixture into the pecan mixture to loosen it up slightly. Gently fold in the rest of the egg white mixture.
Spoon or pipe the cake mixture into the prepared muffin tin. Bake for 12-15 mins, until firm to the touch. Allow to cool in the tin for 10 mins then gently loosen the sides using a knife and turn out onto a cooling rack. When cold remove the baking paper which lined the tins.
For the icing, beat the butter in a large bowl until smooth and soft. Gradually stir in the icing sugar and beat well. Beat in the maple syrup 1 tbsp at a time.
Cut each cake horizontally in half then sandwich the halves together with some icing. Spread a little icing on the top of each cake and decorate with pecan halves.
Tags:
Gluten-Free
,
Gluten-Free Baking
,
Gluten-Free Cake
,
Gluten-Free Dessert
,
Recipes