Roast salmon with fennel & pistachio dukkha
Dinner time just got fancy with this recipe for roast salmon with fennel and pistachio dukkha! Dukkha is an Egyptian spice mix with is absolutely delicious served as a topping on meat fish, fish roasted veggies.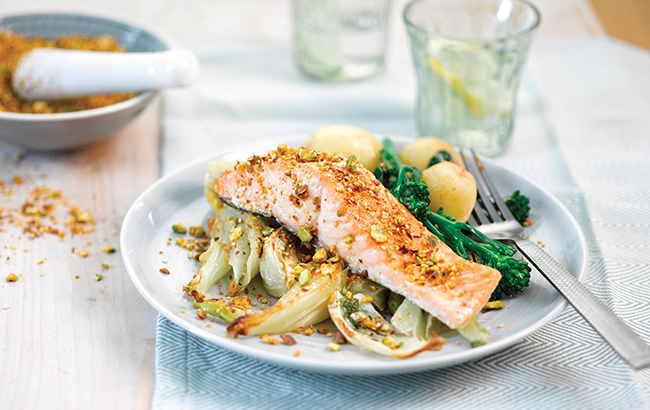 Roast salmon with fennel & pistachio dukkha
By Fiona Hunter (www.americanpistachios.co.uk)
Serves 4 | Prep 15 mins | Cook 25 mins | Calories 468 (per serving)
GF SF DF EF
Ingredients
4 salmon fillets
2 fennel bulbs
For the dukkah:
100g (3½oz) shelled pistachios
4 tbsp sesame seeds
2 tbsp cumin seeds
1 tbsp coriander seeds
½ tsp chilli flakes
½ tsp smoked paprika
½ tsp salt, optional
To serve:
400g (14oz) tenderstem broccoli or asparagus
200g (7oz) baby new potatoes
Method
Preheat the oven to 180°C/Gas Mark 4.
For the dukkah, heat a small non-stick frying pan, add the cumin, coriander and sesame seeds and dry roast for 30 seconds. Place with all the remaining dukkah ingredients in a smaller blender and process to a coarse powder.
Cut each fennel bulb in half and cut each half into three wedges. Cook in boiling salted water for 10 minutes, drain well and toss with 1 tbsp olive oil.
Place the fennel and salmon in a shallow ovenproof dish, then bake for 15 minutes.
Place the fennel on a plate, top with the salmon, sprinkle 1 tbsp dukkah over each piece of salmon and serve with tenderstem broccoli or asparagus and new potatoes.
Tags:
Dairy-Free Recipes
,
Egg-Free
,
Gluten-Free
,
Gluten-Free Diet
,
Gluten-Free Lunch
,
Gluten-Free Recipes
,
Sugar-Free Recipes