Seasame Chicken Goujons and Avocado Chilli Cream
This is one recipe that ticks all boxes for health, immunity, nourishing goodness and flavour. It is well and truly packed to the brim with goodness. It's fresh, flavoursome, sugar-free, dairy free, gluten-free, grain-free, protein packed, high in vitamins and just delicious. You will be fighting for the last chicken goujon and delving your fingers in for the last licks of avocado cream. A perfect centrepiece for a healthy lunch or supper.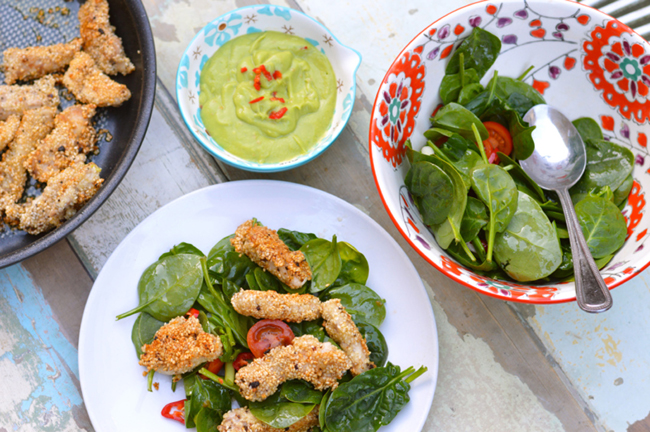 Seasame Chicken Goujons and Avocado Chilli Cream
By Emma Porter  (www.paleowithmrsp.com)
GF SF DF
Makes 10-12 | Prep 20 mins |  Cook 10-20 mins | Calories 164 (per serving)
Chicken Goujons
350g (12oz) boneless chicken thighs
2 free-range egg whites
60g (2oz) sesame seeds
1 tsp sea salt
½ tsp freshly ground black pepper
2-3 tbsp coconut oil
For the Avocado Cream
1 avocado
1½ red chilli
juice of ½ a lime
80ml (2¾fl oz) almond or coconut milk
a pinch of salt
Method:
For the avocado cream, blend all the ingredients together until creamy. Place into a pretty serving bowl and decorate with more chilli.
For the goujons, using a fork, whisk the egg whites until foamy and peaks are just beginning to form.
Chop the chicken into length strips and set aside. Pour the sesame seeds, salt and pepper onto a flat surface and spread the mix out. Take a length of chicken and dip it in the egg white, making sure it's fully coated. Roll it in the sesame seeds until fully coated. Repeat with all lengths.
Place the chicken in a very hot deep frying pan coated with coconut oil. Allow the goujons to cook for about
3-4 minutes on each side until golden. It's very important there's enough oil in the bottom of the pan or else they will burn. You may need to cook the chicken in batches.
Test one chicken goujon by cutting it in half to make sure it's fully cooked through – if not, turn the heat down and continue to cook until cooked through. Serve straight away with fresh spinach leaves, cherry tomatoes, spring onion, avocado cream and fresh lime.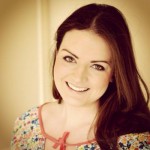 About the author: Emma is the writer of Paleo With Mrs P, a website dedicated to creating simple, healthy, nutritious recipes which are free from dairy, gluten, grains and refined sugar. Diagnosed with diabetes just before her eighteenth birthday, Emma later fell in love with the Paleo diet and how it calmed her symptoms, as well as making her feel happy and healthy.
You can find her on Facebook, and Twitter.
Check out more of our delicious paleo recipes and gluten-free recipe ideas. 
Tags:
Avocado
,
Chicken
,
Dairy-Free Recipes
,
Gluten-Free Lunch
,
Gluten-Free Recipes
,
Paleo Lunch
,
Sugar-Free Lunch