Simple Raw Chocolate Brownie
Dark chocolate, particularly raw dark chocolate not only tastes delicious, it comes with a myriad of health benefits too, from improving health, brain function and lowering the risk of heart disease. So what could be a better way to celebrate International Chocolate Day on 7th July than with Honest Eat's gluten-free dark chocolate brownie recipe!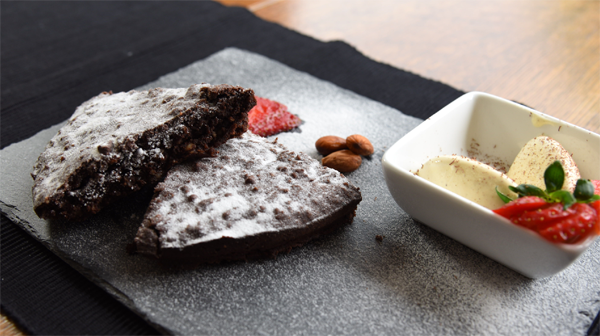 Simple Gluten-Free Chocolate Brownie
Serves 16 | Prep 10 mins | Cook 25-30 mins |
GF DF MF
Ingredients 
200g ground almonds or almond meal
300g icing sugar plus extra for dusting
60g unsweetened natural cocoa or cacao powder
2 large eggs
1 egg white
1 tsp vanilla extract
145g of dark 'raw' chocolate
½ tsp salt
2 tbsp water
Method
Preheat the oven to 180°C or gas mark 4 and line the bottom and sides of an 8×8-inch tin with greaseproof paper – allow for some of the paper to hang over the edge of the tin to make for an easier serve.
Sift your icing sugar and cocoa powder into a large mixing bowl, then add the ground almonds and salt and stir.
Add two whole large eggs, followed by the egg white, water and vanilla extract. Stir by hand until the mixture is smooth and thick. Then combine the dark 'raw' chocolate and stir well.
Once combined, transfer to the lined tin and place into the oven for 25-30 minutes. Leave to cool before dusting with icing sugar.
Tip
If you're  looking for a really good raw chocolate to use in this recipe, then Honest Eats have just the thing with their new range of natural 'raw' gluten-free chocolate. The chocolate bars – made from pure cacao beans, cacao butter and ingredients for sweetness such as coconut sugar – come in flavours including mint, orange, ginger and lemon and dark chocolate. They're gluten-free, organic, Fairtrade and suitable for vegetarians and vegans.
The chocolate is made by grounding the ingredients for a very, very long time, to make it super velvety smooth and intense. The cacao is sun dried (not heat treated) and minimally processed with very few additional ingredients so that the cacao flavour can really sing through. The benefit of fresh 'raw' food is that it contains enzymes that aid digestion and other micro-organisms that can help to stimulate the immune system.

Brownies
,
Chocolate
,
Dairy-Free Dessert
,
Gluten-Free Dessert
,
Gluten-Free Diet
,
Gluten-Free Recipes