Not only is turkey a great source of protein to help keep you feeling fuller for longer, it's also low in fat and a great source of iron. Not to mention, it tastes absolutely delicious in this lightly spiced, fragrant curry!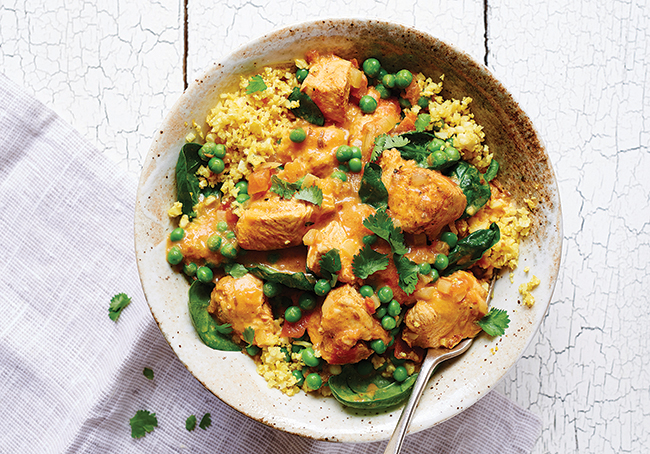 Spiced turkey curry & cauliflower rice
By Madeleine Shaw for British Turkey (www.britishturkey.co.uk)
Serves 4 | Prep 20 mins plus marinating | Cook 25-30 mins | Calories 506 (per serving)
GF DF EF
Ingredients
500g (1lb 1oz) British turkey breast, chopped into 2.5cm (1in) chunks
1 tsp chilli powder
1 tsp fenugreek
1 tbsp coconut oil
1 tsp cumin seeds
2 bay leaves
1 onion, peeled, chopped
1 tbsp ginger, grated
3 garlic cloves, peeled, crushed
3 ripe beef tomatoes, finely chopped
½ tsp turmeric
400ml (14fl ox) tinned reduced fat coconut milk
200g (7oz) frozen peas
100g (3½oz) spinach
salt and freshly ground black pepper
for the rice
1 cauliflower, roughly chopped
1 tbsp coconut oil
1 tsp turmeric
½ tsp ground ginger
2 tbsp coriander, chopped
Method
Marinate the turkey in the chilli, salt, pepper and fenugreek.

Heat the coconut oil in a large pan and add the cumin seeds, bay leaves and onion. Cook for 5 minutes, then add the ginger, garlic, tomatoes and turmeric. Stir for a few more minutes until the tomatoes break down and the garlic is cooked through and golden. Add a pinch of salt and pepper and pour over the coconut milk. Allow to infuse for 10 minutes, then add the turkey and cook for a further 10 minutes while you make the cauliflower rice.

For the rice, pulse the cauliflower in a processor until a rice-like consistency. Heat the coconut oil, turmeric, ginger and a pinch of salt. Add the cauliflower and sauté for 5 minutes.

Add the peas and spinach to the curry and stir through for 1 minute. Serve with chopped coriander.