Spicy shakshuka with rose harissa
This spicy Shakshuka with rose harissa is a vibrant and traditional Israeli breakfast dish of eggs poached into a heavily spiced, rich tomato sauce, all baked into a single skillet.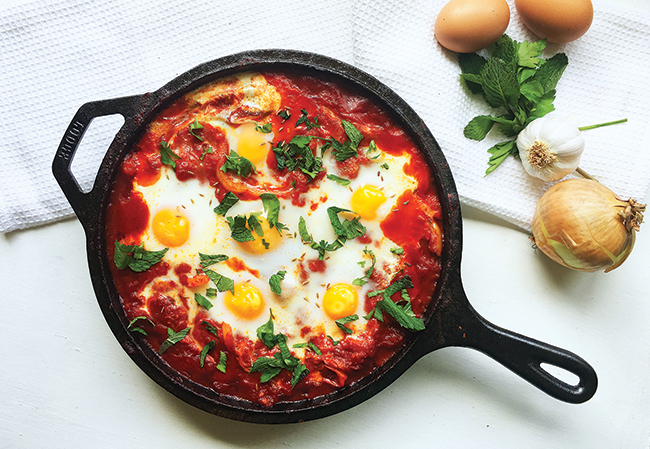 Spicy shakshuka with rose harissa
By Georgina Young (www.greensofthestoneage.com)    
Serves 3 | Prep 20 mins | Cook 30 mins | Calories 342 (per serving)
GF DF MF
Ingredients
½ tsp cumin seeds
½ tsp caraway seeds
3 tbsp olive oil
1 white onion, peeled, finely chopped
4 garlic cloves, peeled, minced
2 tbsp rose harissa
2 tbsp coconut sugar
1 tbsp tomato purée
1 tbsp sweet paprika
1 tsp ground cumin
a dash of cayenne pepper
a pinch of fine Himalayan salt
1 large yellow pepper, sliced
800g (28oz) tinned tomatoes
10 cherry tomatoes, halved
juice of ½ a lemon
6 free-range eggs
25g (1oz) fresh flat-leaf parsley, roughly chopped
25g (1oz) fresh mint, roughly chopped
8 tbsp coconut yoghurt
Method
Preheat the oven to 190°C/Gas Mark 5.
In a cast iron skillet or pan, dry roast the cumin and caraway seeds for 2 minutes. Add the olive oil and sauté the onion and garlic for a further 2 minutes. Add the rose harissa, coconut sugar, tomato purée, sweet paprika, ground cumin, cayenne pepper and salt. Stir until combined, then add the yellow pepper. Cook for 2 minutes, then add the tinned and cherry tomatoes. Cook on a low heat for 15 minutes until the tomatoes have thickened. Add the lemon juice and stir.
Make six indentations into your tomato sauce and gently crack your eggs into the indentations. Using a fork, swirl the edges of the egg whites around, being careful not to break the yolks. Season with salt and pepper and transfer your pan into the oven. Bake for 7-10 minutes until the eggs are set.
Remove from the oven and sprinkle over the parsley and mint. Serve with 4 tbsp coconut yoghurt per person.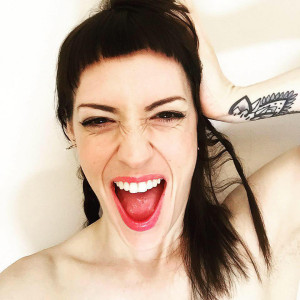 About the author: Georgie is a fresh faced, freelance writer and recipe developer who specialises in nutrition, fitness, and health and well-being. She enjoys sharing her passion for cooking, Paleofying food, and exploring Veganism within the Paleo diet on her blog, Greens of the Stone Age, and along the way has helped many friends to take a more holistic approach to their hectic lifestyles. She have further expanded upon her love of the Paleo way of living by setting up Primal Eye Magazine – the UK's 1st online Paleo lifestyle magazine!
Tags:
Dairy-Free Recipes
,
Gluten-Free Recipes
,
Vegetarian
,
Vegetarian recipes