Squidgy chocolate, almond and prune torte
This rich, fruity and ever-so-slightly boozy chocolate, almond and prune torte is a must-try recipe! And it's particularly scrumptious when served with double cream or a little crème fraîche.

Squidgy chocolate, almond and prune torte
By Lucinda Bruce-Gardyne (www.geniusglutenfree.com)
Serves 8-10 | Prep 25 mins plus soaking | Cook 35-40 mins | Calories 366 (per serving)
GF MF
Ingredients
55g (2oz) ready-to-eat prunes, pitted, roughly chopped
50ml (1¾fl oz) brandy or Amaretto
3 medium free-range eggs, separated
140g (5oz) caster sugar
200g (7oz) gluten-free dark chocolate, roughly chopped
110g (4oz) unsalted butter or dairy-free baking margarine, diced
100g (3½oz) ground almonds
40g (1½oz) cornflour
Oil, for greasing
Double cream or crème fraîche, to serve
Method
Soak the prunes in the brandy for 30 minutes.
Preheat the oven to 180°C/Gas Mark 4. Grease a 20cm (8in) springform tin with butter and line the base with greased greaseproof paper.
Beat the egg yolks with the caster sugar on high speed until thick and creamy.
Place the chocolate and 2 tbsp water in an ovenproof bowl, sitting on the rim of a small pan of simmering water. Stir the melting chocolate and water together until smooth. Slowly incorporate the butter, a few pieces at a time, to form a smooth, shiny liquid.
Pour the melted chocolate mixture over the whisked egg yolks and gently fold together using a large metal spoon.
Sift the ground almonds and cornflour over the chocolate mixture, add the soaked prunes and brandy and gently fold through.
In a clean, dry bowl, whisk the egg whites until they form firm peaks. Stir a large spoonful into the chocolate mixture, then gently fold in the remaining egg whites.
Pour the mixture into the tin and bake in the centre of the oven for 35-40 minutes, until the centre of the torte is just set. Leave to get cool in the tin on a wire rack.
Run a sharp knife around the edge of the torte, remove the tin and lining paper, then transfer to a serving dish.
Serve in narrow slices with double cream or a dollop of crème fraîche on the side.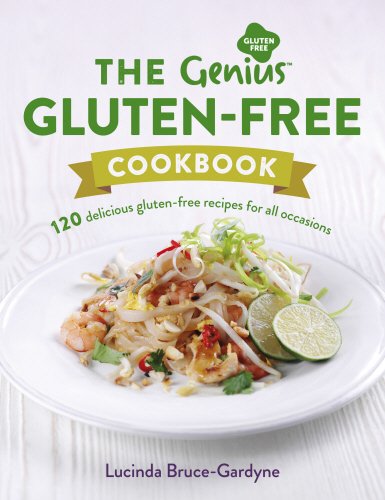 This recipe is taken from The Genius Gluten Free Cookbook by Lucinda Bruce-Gardyne,  photography by Joff Lee, published by Vermilion.
(RRP £14.99)
Tags:
Chocolate
,
Gluten-Free
,
Gluten-Free Dessert
,
Gluten-Free Diet
,
Gluten-Free Recipes