Strawberry Swiss roll with prosecco buttercream
This delicious Prosecco-infused, strawberry-filled Swiss roll is the perfect sweet addition for any special occasion.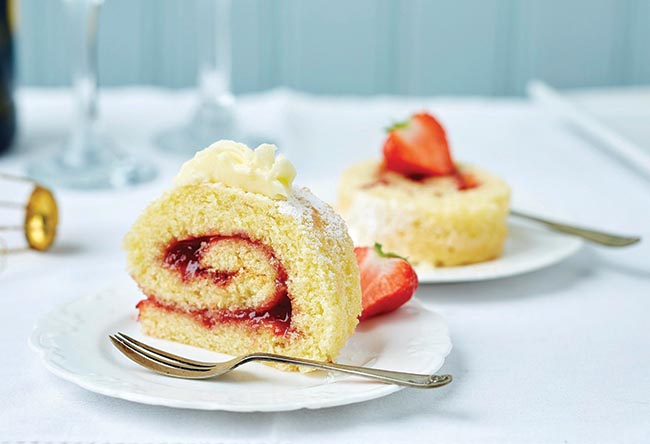 Strawberry Swiss roll with Prosecco buttercream
By Delicious Alchemy (www.deliciousalchemy.com)
Serves 8-10 | Prep 25 mins | Cook 15-18 mins | Calories 532 (per serving)
GF MF
Ingredients
For the sponge:
400g (14oz) Delicious Alchemy vanilla sponge cake mix
180g (6oz) soft unsalted butter
3 large free-range eggs
20ml (¾fl oz) water
For the filling:
300g (10½oz) strawberry jam
For the Prosecco buttercream:
250g (9oz) icing sugar, sieved, plus extra for dusting
125g (4½oz) unsalted butter
3 tbsp prosecco
100g (3½oz) strawberries
Method
Preheat the oven to 180°C/Gas Mark 4. Grease and line a baking tray with greaseproof paper. Put the cake mix, soft butter, eggs and water into a bowl and beat together with an electric whisk for 15 seconds. Stop, scrape down the bowl and mix for a further 10 seconds.
Pour the mixture into the tray and spread into an even layer. Bake for 15-18 minutes, until lightly golden brown and springy to the touch.
Dust a large piece of baking paper with icing sugar and carefully flip the warm sponge out onto it. Peel off the baking paper, trim off the edges and use a sharp knife to score a line roughly 2.5cm (1in) from one of the shorter ends – this is the side you will be rolling; it will help you when rolling the sponge, but be careful not to cut all the way through. From this end, roll up the sponge tightly and leave to cool completely on a wire rack.
While the sponge is cooling, prepare the Swiss roll filling and buttercream decoration.
Put the jam in a bowl and stir well to loosen. For the buttercream, beat the butter and icing sugar together until light and fluffy, then add the Prosecco, one tablespoon at a time. Beat for a further 30 seconds to let air in, then add to a piping bag.
Once cool, unroll the sponge and spread on an even layer of jam, making sure it reaches the edges of the sponge, then carefully roll up again.
To create each buttercream rose decoration, place the tip of the piping bag in the centre of where each rose will be placed and gently pipe in a clockwise direction, working toward the outer edge. Once you have finished creating the rose swirl, gently pull the tip away. Decorate the Swiss roll with icing sugar and strawberries. Serve in slices and enjoy with a glass of Prosecco!
Tags:
Gluten-Free
,
Gluten-Free Dessert
,
Gluten-Free Diet
,
Gluten-Free Recipes