Top 10 gluten-free sweets
See what we at Gluten-Free Heaven HQ thought of the latest sweet treats to hit the shelves…
Read this list to find out the top 10 gluten-free sweets and chocolates that are available right now. Quite a few of these happen to be vegan too!
Biona
Product: Jelly Dinos
Price: £1.89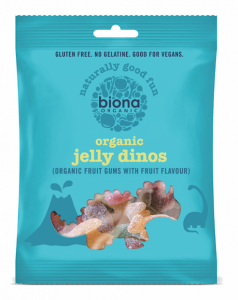 You wouldn't know there was no gelatine in these, such is the chewy nature. They are a nostalgic throwback to the classic pick n' mix experience. If you choose a cola one, you'll know what we mean. A great sweet.
Verdict: ★★★☆☆
Eskal
Product: Wafer Rolls
Price: £2.85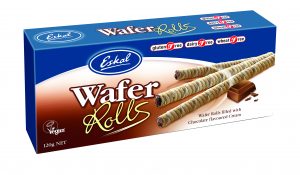 These are absolutely delicious. We tried them poked in an ice cream cone and they were a winner with the kids and grown-ups! The chocolate inside the wafer is gooey and really tasty, while the wafer is light and crumbly. Really moreish. A tasty treat to eat on its own or a great addition to a dessert!
Spoons of Taste
Product: Coconut Bites
Price: £2.69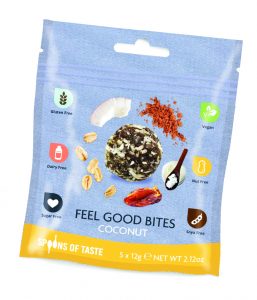 The outer crunch of the desiccated coconut really adds texture and flavour to this date- based bite. They are chewy, dense and a packet is enough to go around (providing you are willing to share of course!)
Verdict: ★★★★☆
Bonsan
Product: Tropical Kisses
Price: £1.99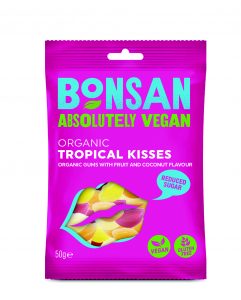 A classy, nuanced sweet that doesn't overdo the sweet or sour flavours. The lack of fluorescent colouring is another big plus. A perfect cinema treat for those with a discerning palate.
Verdict: ★★★☆☆
Moo Free Chocolates
Product: Choccy Chum Surprises
Price: 55p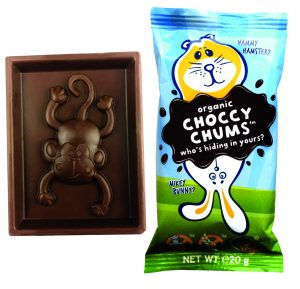 We've had these before, but since they are such a favourite in the office we've sneaked them in again. Kids love these as well by the way! The chocolate is smooth, creamy and you'd be hard-pressed to spot they are dairy-free as well. Simply put, they hit the spot.
Verdict: ★★★★★
Nomo
Product: Fruit & Crunch Choc Bar
Price: 99p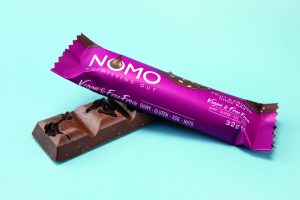 A delicious bar full of sumptuous and creamy chocolate flavours. The crisp rice pieces peppered throughout give an added taste sensation. The complete snack experience for the chocoholic in your life.
Nine
Product: Berry & Chia Seed Bar
Price: £2.25 for 4

If seeds are your thing, then Nine's the bar for you. It's packed full of 'em! Slathered in a good amount of carob, this is a snack for the health-conscious among you. You can satisfy the sweet craving and feel virtuous!
Quest
Product: Cookies & Cream Bar
Price: £2.49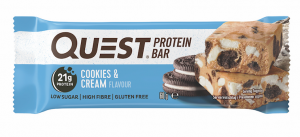 This filling bar will let you enjoy the taste of a popular T t eat, but without the guilt. It's high in protein and fibre and low in sugar, but loaded with flavour! This allows for a healthy yet indulgent bar which is perfect to carry on-the-go.
Verdict: ★★★★☆
Perkier
Product: Cacao
Price: £2 for 3

Thick, gooey and sweet, this is veritably packed with big citrus and sweet flavours. Think marmalade with added chocolate. They don't scrimp on the raisins either. A superior, healthy snack bar.
Verdict: ★★★★☆
Schär
Product: Delishios
Price: £1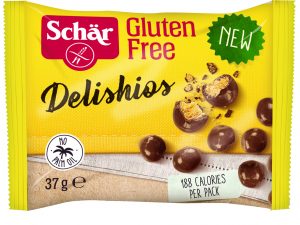 If you're looking for an alternative to those popular red-packaged treats, then you're in the wrong ballpark. However, if you want a bundle of chocolate-coated around a crunchy biscuit, then this is for you. Sure to be a big hit with adults and kids alike.
Verdict: ★★★★☆
Tags:
Chocolate
,
Features
,
Gluten-Free Dessert
,
Gluten-Free Snacks
,
Products
,
Taste Test
,
Vegan and Gluten Free