Turkey meatballs
Looking for a healthy, tasty dinner that doesn't break the bank? This turkey meatballs recipe, which served with spiralized courgettes (courgetti) and a delicious tomato sauce is the perfect cost-effective meal. Turkey is really lean and affordable, while the courgetti is the perfect gluten and grain free pasta.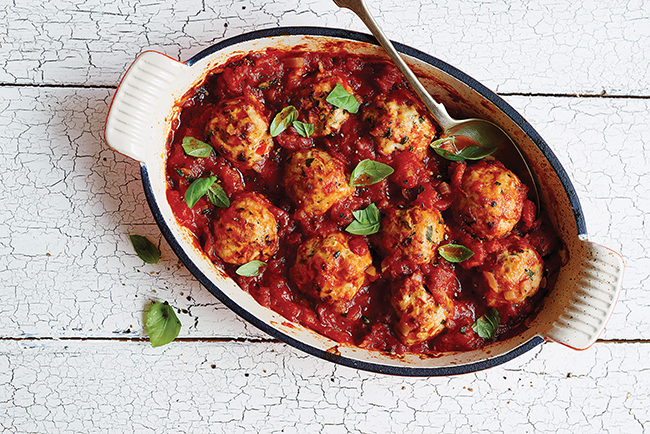 Turkey meatballs
By Madeleine Shaw for British Turkey (www.britishturkey.co.uk)
Serves 4 | Prep 15 mins | Cook 25 mins | Calories 508 (per serving)
GF SF DF
Ingredients
For the meatballs:
1 tbsp coconut oil, melted
800g (1lb 11oz)British turkey breast mince
1 onion, peeled, finely diced
1 small red pepper, finely diced
1 garlic clove, peeled, minced
a pinch of sea salt and freshly ground black pepper
2 free-range eggs
2 tbsp parsley, chopped
For the sauce:
1 onion, peeled, finely chopped
2 tbsp coconut oil
1 garlic clove, peeled, crushed
1 tsp dried thyme
1 tsp oregano
2 x 400ml (14fl oz) tins of chopped tomatoes
1 tsp sea salt
Method
Preheat the oven to 180°C/Gas Mark 4. Place all the meatball ingredients in a medium bowl and mix everything together. Roll into 4cm (1½in) balls.
For the sauce, fry the onion in a little coconut oil and salt. After 5 minutes, add the rest of the ingredients and cook for a further 10 minutes.
Place the meatballs on a roasting tray, evenly spaced, and pour over the sauce. Bake in the oven for 20 minutes. Enjoy with a side of your favourite vegetables or courgetti.
Tags:
Gluten-Free
,
Gluten-Free Diet
,
Gluten-Free Dinner
,
Gluten-Free Recipes