Wild Alaskan salmon with cauliflower & celeriac mash
An easy weeknight meal, packed with flavour and all the nutrients. This gluten-free salmon dish with cauliflower and celeriac mash will be a hit with the whole family!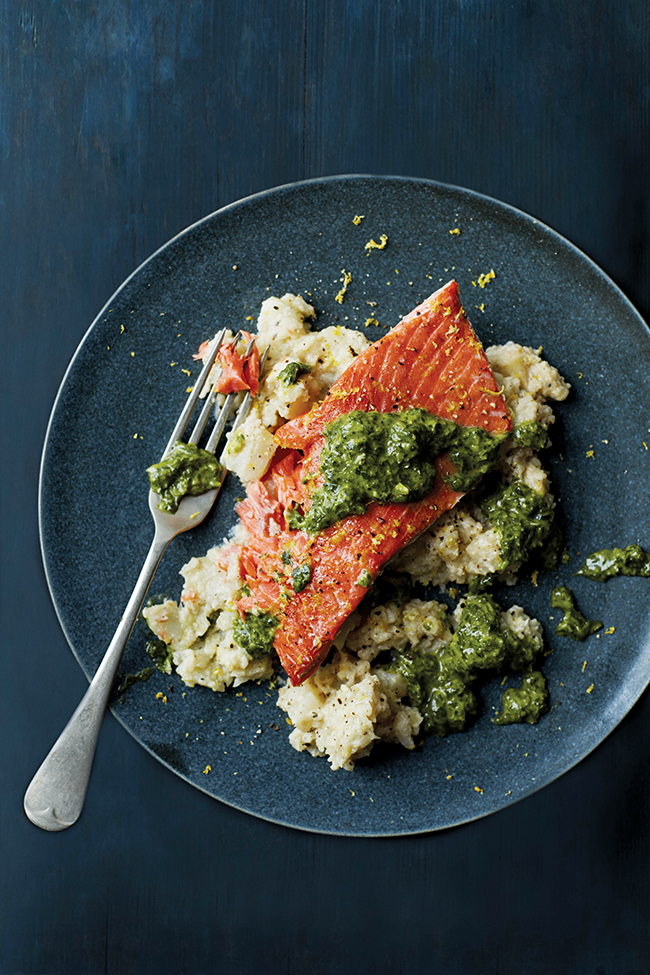 Wild Alaskan salmon with cauliflower & celeriac mash
By Waitrose (www.waitrose.com)
Serves 2 | Prep 10 mins | Cook30 mins| Calories 488 (per serving)
Ingredients
½ tbsp unsalted butter
1 shallot, peeled, finely diced
½ a small cauliflower in small florets
200g (7oz) celeriac, peeled and diced
100ml (3

½

fl oz) semi-skimmed milk
grated zest and juice of

½

a lemon
½ tbsp olive oil
2 Waitrose 1 Wild Alaskan Sockeye Salmon Fillets
for the Herb salsa
a handful of parsley, basil and mint
1 tbsp olive oil
1 garlic clove, peeled, crushed
½ tsp Dijon mustard
½ tbsp red wine vinegar
½ tsp capers
Method
Heat the butter in a pan. Add the shallot, cauliflower, celeriac and a pinch of salt. Cover and cook for 15 minutes. Add the milk and simmer, uncovered, for 10 minutes until the veg are tender. Whizz in a food processor until chunky. Season with salt, pepper and the lemon juice, then tip back into the pan, cover and set aside.

Wipe out the food processor and add all the salsa ingredients to the small bowl. Pulse, season and set aside.

Preheat the grill to high. Brush the oil over the salmon, season and sprinkle with most of the lemon zest. Place, skin-side up, on a parchment-lined baking tray. Grill for 3 minutes, then turn flesh-side up and grill fo 2 minutes. Pile the mash, salmon and salsa onto plates and sprinkle over the remaining zest.
Tags:
Gluten-Free
,
Gluten-Free Dinner
,
Gluten-Free Recipes
,
Recipes