Zesty orange gluten-free gingerbread men
This recipe for zesty orange gluten-free gingerbread men gives a nice twist on the classic gingerbread biscuit by adding orange zest along with stem ginger for an exciting kick. Plus the house will smell delicious as they bake!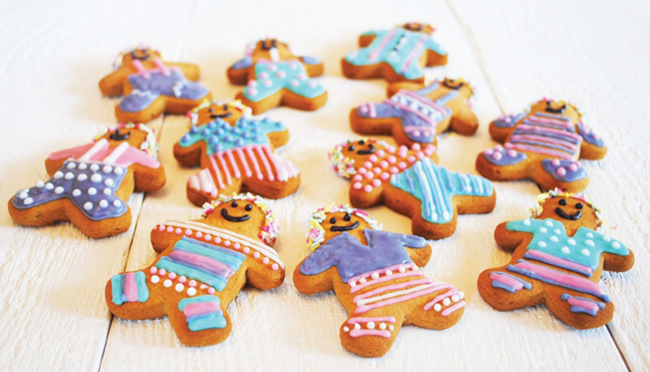 Zesty orange gluten-free gingerbread men
By Udis Gluten-Free (www.udisglutenfree.co.uk)    
Makes 16 | Prep 25 mins plus chilling | Cook 12-15 mins | Calories 165 (per gingerbread man)
GF EF MF
Ingredients
275g (10oz) Udi's Gluten Free All Purpose Flour, plus extra for dusting
1 dsp ground ginger
½ tsp xanthan gum
1 tsp bicarbonate of soda
finely grated zest of 1 orange
25g (1oz) stem ginger, finely chopped
75g (2¾oz) butter
50g (1¾oz) dark brown sugar
2 tbsp golden syrup
For the icing:
175g (6oz) icing sugar
20ml (1fl oz) warm water
gluten-free food gel, colours to suit
gluten-free decorations
Method
Preheat the oven to 190°C/Gas Mark 5.

 

Grease and line two baking trays.
Sieve the flour, ginger, xanthan gum and bicarbonate of soda into a large mixing bowl, then add the orange zest and stem ginger.
Place a small pan over a low heat and add the butter, sugar and golden syrup. Stir until the sugar has dissolved, then pour into the flour mix. Beat with a wooden spoon until thoroughly combined and a firm dough has formed. Wrap in clingfilm and chill in the fridge for 30 minutes.
Sprinkle a work surface with a little flour and roll out the dough to 5mm (¼in) thick. Use cutters to make the gingerbread shapes and place on the baking trays, leaving a little space between each one.
Bake in the oven for 12-15 minutes or until firm and golden brown, then turn out onto a cooling tray.
Mix the icing sugar with the water to make a thick icing. Colour with your choice of food colouring and use to decorate the biscuits as desired.
Tags:
Gluten-Free
,
Gluten-Free Christmas
,
Gluten-Free Dessert
,
Gluten-Free Diet
,
Gluten-Free Recipes