Delicious Alchemy is an award-winning business who passionately believe that restricted diets shouldn't mean restricted flavour and choice. Their range of delicious bake at home cake and bread mixes, plus tasty breakfast cereals are all produced in a gluten and dairy-free environment.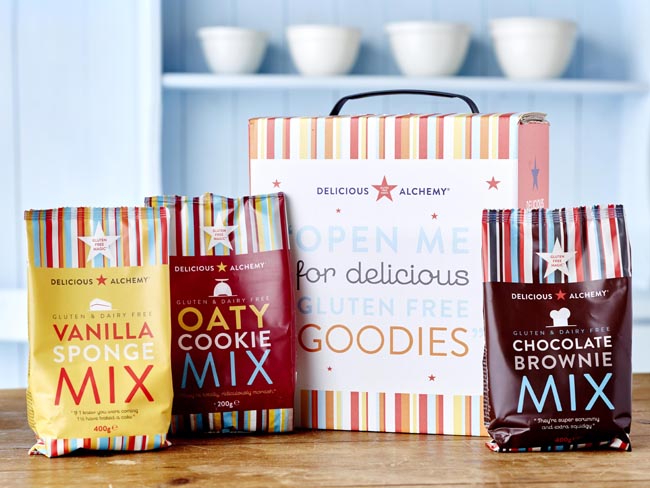 Delicious Alchemy is a gluten-free food brand that was launched in 2006 by coeliac Emma Killilea, after she became disappointed by the lack of natural, tasty gluten-free products available following her diagnosis. Not one to quietly grumble in the corner, she did something about it.
With a mantra to make simple recipes gluten-free and as flavoursome as mainstream foods, the Yorkshire company has made itself stand out in a booming market. Delicious Alchemy's high quality baking mixes, bread mixes, breakfasts and on-the-go snacks have been developed specifically for people with coeliac disease and gluten intolerances, as well as being suitable and appealing for those who follow a gluten-free lifestyle for personal choice.
It's prime responsibility is to help people on a restricted diet improve their lives day by day, ensuring that switching to a free-from lifestyle is achievable for all, and doesn't involve any compromising on taste!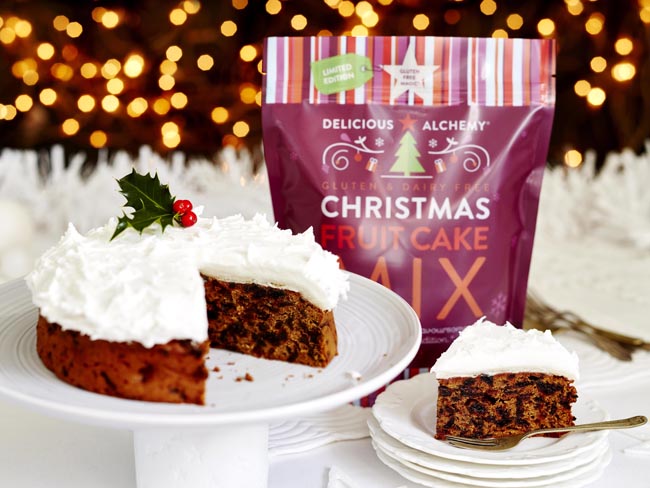 The company has also recently launched the UK's first gluten and dairy free Christmas cake mix, so people with coeliac disease, dairy intolerances and those following a free-from diet don't have to miss out this festive season. The new mix is packed full of dried fruits and Christmas spices and produces a deliciously moist fruit cake, which tastes just as good as traditional alternatives. And, as it's the season to be jolly, it can be made with or without alcohol.
Making the cake is easy – simply add butter, two eggs and orange juice or brandy to the mix, stir and then bake for one hour 45 minutes. The result is a tasty free from Christmas cake that can be topped with an icing of your choice. The Christmas cake mix is ideal for those who want a tasty, free from seasonal dessert alternative.
You'll find Delicious Alchemy's magical range in leading supermarkets and direct from shop.deliciousalchemy.com. For more information about Deliciously Alchemy and its range of gluten-free products, visit www.deliciousalchemy.com.