Adventurous food brand GLORIOUS! bolster their gluten-free soup range with a Mexican inspired flavour, and the popular Mumbai flavour joins their core range.

GLORIOUS! Foods have strengthened their gluten-free range of fresh soup pots with the launch of a new limited edition flavour, bringing the total number of gluten free soup flavours in the range to eight.
Mexican Tomato & Fire Roasted Pepper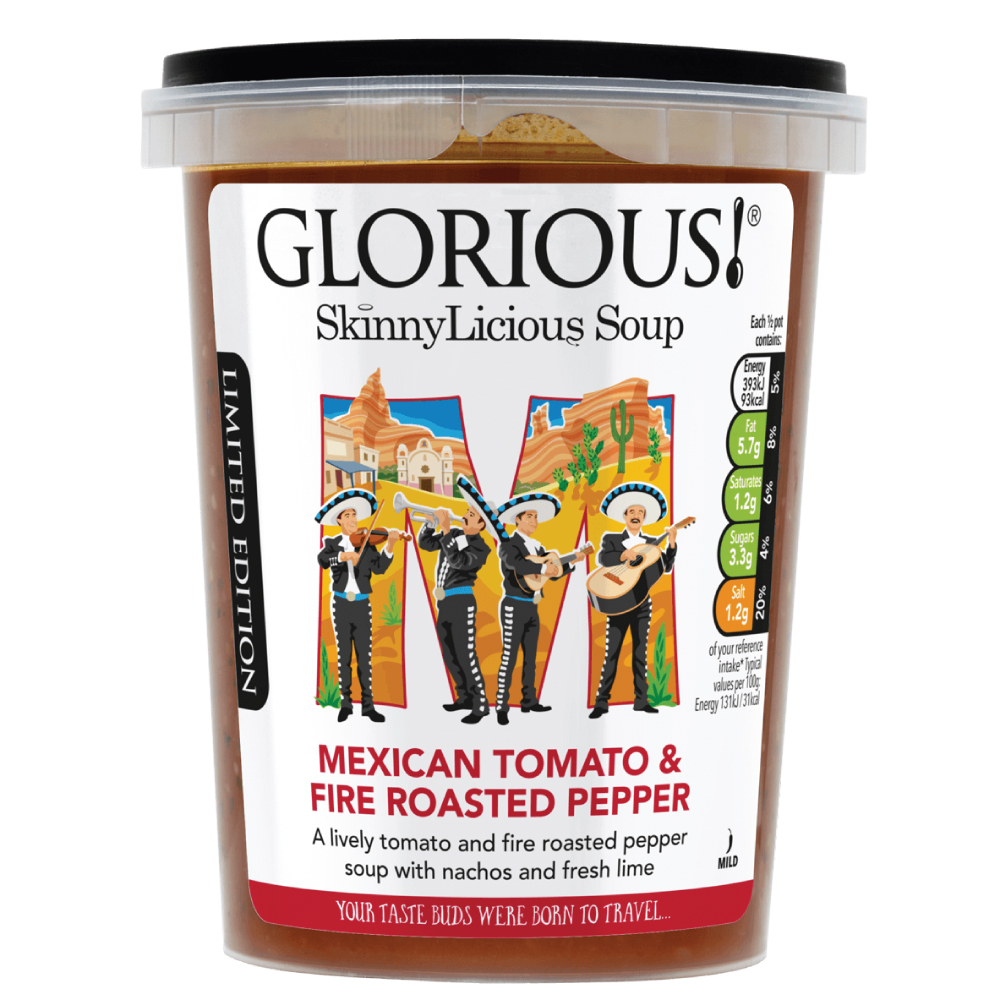 This flavour also sits within the brand's popular SkinnyLicious range, where each soup is just 150 calories per portion or less, and under 2% fat, as it boasts only 93 calories per serving. Many of the flavours available in this range are also free-from everything too.
Building on the GLORIOUS! 'Adventure Through Food' ethos, this new addition to the range aims to reinvigorate the fresh soup market with it's bold and exciting flavours inspired by authentic ingredients and flavours from around the world. The lively tomatoes and fire roasted peppers are blended with a sprinkling of crushed nachos, a squeeze of tangy lime and the flavour of a Mariachi band playing to crowds of people dancing through a fiesta in Mexico! Despite the fact this soup is bursting with flavour, it is also vegan, dairy and gluten-free, so can be enjoyed by all!
We were lucky enough to be able to try the new range of flavours, and our taste tester's declared the "Mexican Tomato & Fire Roasted Pepper" to be:
"Rich tomatoey flavour with a fiery kick. Not so much heat it will have your mouth on fire, but certainly makes the lips tingle. Lots of good flavours going on – sharpness of tomato combated by the sweeter pepper and a good scattering of fresh coriander. Also features nachos, but these are very small pieces, so can easily be missed! A good version of a classic tomato soup but with an interesting Mexican twist" – Sally
Mumbai Chickpea and Lentil
Another soup joining the GLORIOUS! core range, due to unprecedented consumer demand, is the current limited edition gluten-free, dairy-free and vegan soup "Mumbai Chickpea and Lentil" flavour, which will now be available year-round following its huge popularity. This is a filling, soul-soothing lentil & chickpea soup that'll give you a little pick-me-up. Mixed with a classic Toor Daal, spinach, a pinch of turmeric, a touch of ginger and a dash of navigating the hustle and bustle of the busy streets whilst deftly dodging the throngs of locals cycling past.
"A hearty meal soup, with big chunks of carrot, potato, chickpeas and lentils, packs a punch and full of flavour, really warming and satisfying" – Sarah
Fragrant Thai Carrot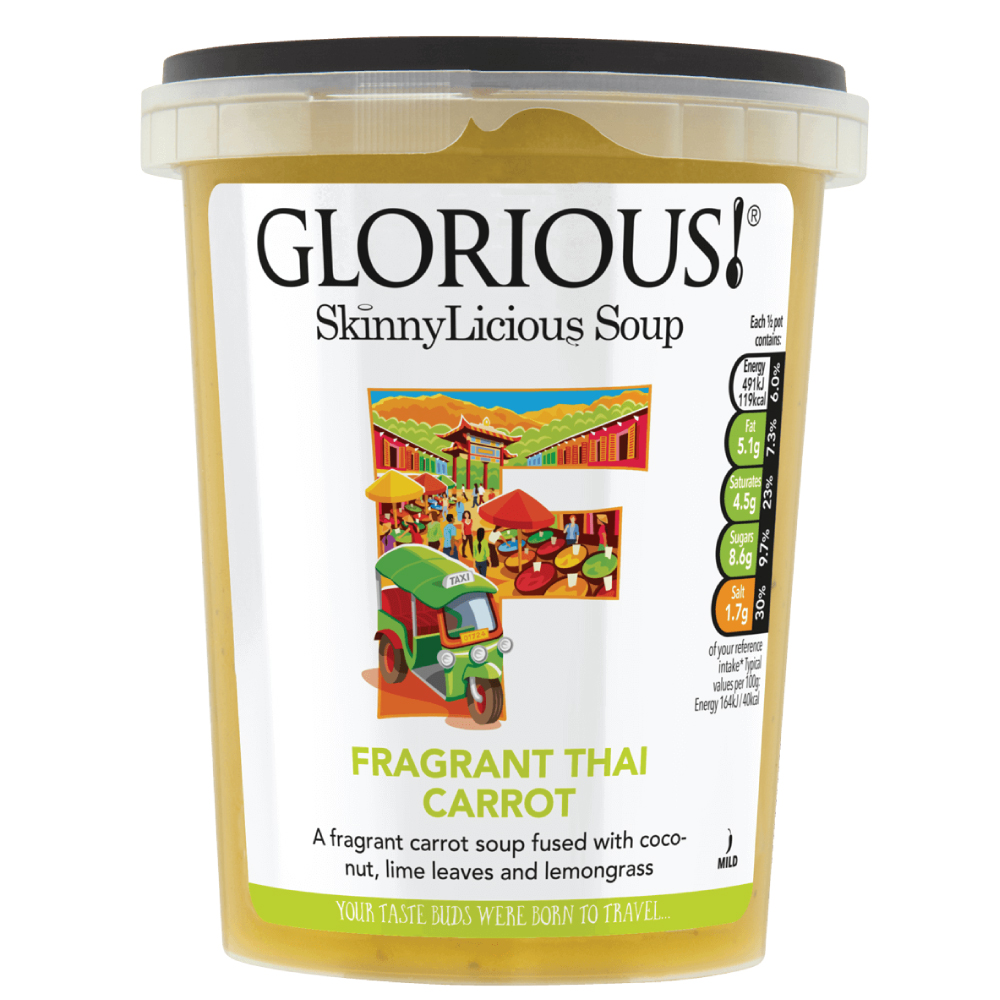 Another addition to the SkinnyLicious range is the "Fragrant Thai Carrot" flavour; a beautifully light Thai style carrot soup with only 1.7% fat. Not only is this soup low in fat, it is also vegan, dairy-free and gluten-free. However that doesn't mean this soup is lacking in flavour, as the fragrant flavours of lemongrass, ginger, lime and coriander combined with the sweetness of carrot and a little coconut are reminiscent of days spent scootering past endless paddy fields and haggling in noisy markets while crazy tuk-tuks zoom past in Asia.
Our taste testers thought this soup was:
"A really warming soup, full of flavour.  Left me feeling satisfied and warmed me up a treat.  Yummy and not over powering flavours of coconut and lemongrass, making this a delicious soup that I really enjoyed and would definitely buy in the future!" – Leah
"Beautifully aromatic Thai flavours, with sharp and fragrant lemongrass, lime and ginger balanced perfectly by the creamy coconut and sweet carrot. A wonderfully warming treat for a cold autumn evening!" – Gary
The GLORIOUS! 600g soup pots are available to purchase from all major supermarkets with prices from £1.99
For more information on GLORIOUS! Foods, visit www.gloriousfoods.co.uk.