Gluten-free flours from Eurostar Commodities bring quality, texture and flexibility
Bake your way through Gluten Free Awareness Week (9th – 15th
 

May 2021) with Eurostar Commodities range of gluten-free flours. Developed to produce outstanding results the range has been developed by Eurostar's technical development team to provide specialist flours for all kinds of baking and cooking…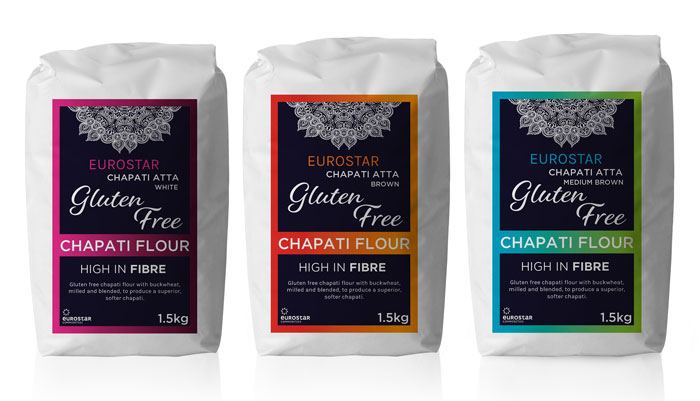 Philip Bull, MD, Eurostar Commodities says; "We've always held the believe that being gluten free should not prohibit you from enjoying delicious baked goods. We have committed substantial resources to developing a range that delivers high quality flour that performs as well as, or better than a product that contains gluten. It has been a real journey to work with new ingredients to create the perfect recipes that we believe we have achieved. We have been blown away by the positive response from people who can now cook and eat whatever they want. This is what drives us on – improving quality and moving quality to the next level."
Eurostar Commodities gluten-free range includes:
Della Terra Gluten Free Pizza Flour – 1.5kg / 3kg / 12 kg cases
The premium white gluten-free pizza flour is a blend of naturally gluten free ingredients and is very versatile. A popular choice for pizza bases, it can also be used for focaccia and ciabatta! It gives the same consistent results with the added benefits of being gluten-free, higher in fibre and vegan friendly.
Eurostar Commodities Gluten Free Chapati Flour
3 x varieties Brown, medium brown and white – 1.5kg / 3kg / 12 kg cases
Tey have created a tasty high quality Gluten Free Chapatti Flour (atta for roti).  A popular choice, and a great alternative to the traditional flour.  The flour produces a workable dough that makes high quality, tasty chapati, still with softness and flexibility, giving great results. High in Fibre. Gluten Free, Coeliac and Vegan friendly. Developed specially to produce outstanding chapati! Medium Brown. Wheat free
Gluten Free Self Raising Flour –
1.5kg / 12 kg cases
A fine, white flour blended from naturally gluten-free ingredients, combined with quality gluten free raising agents. Ideal for light sponges, scones, biscuits and homemade cakes.
Tags:
Gluten-Free Diet
,
Gluten-Free Products
,
Products