Gluten-free snacks made from wonky veg!
Groundbreaking brand Nudie Snacks has harnessed the plant power in wonky veg and is the first to market a new gluten-free product made from fresh produce that would usually have been discarded.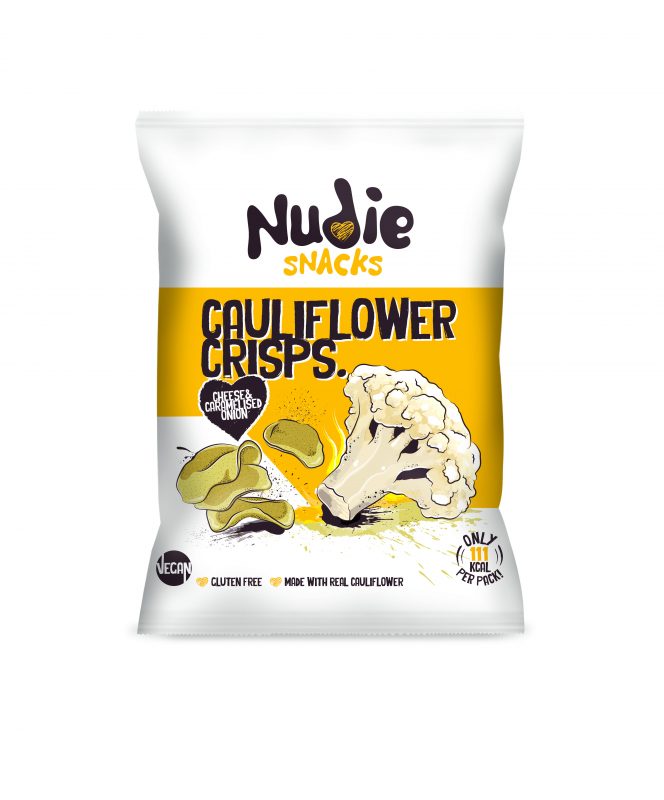 The Caulifower Crisps are made from 40% fresh cauliflower grown in Couper Angus, Scotland, and come in two different flavours – cheese and caramelised onion and katsu curry. They offer bold and innovative flavours with a broad appeal to all ages and tastes.
With no artificial flavourings or colourings, the Cauliflower Crisps are low in sugar, high in fibre and 40% lower in saturated fat than traditional potato crisps, making a healthier snacking option. Importantly, they are cutting food waste as the crisps are made from vegetables often thrown out because they don't meet standard shape and size requirements.
A 22gm bag of Cauliflower Crisps has 118 calories and is perfect for adults and children, in packed lunch boxes, to nibble on during the day or in the evening.
Suitable for those following vegan, vegetarian, gluten-free and dairy-free diets, the crisps are part of a new range by Nudie Snacks that includes Lentil Curls flavoured with Chilli and lime, Quinoa Chips with Sundried Tomato and Garlic, Lightly Salted Roasted Corn, Lightly Salted Hummus Chips and Popcorn.
The new range is available to buy from https://www.nudiesnacks.co.uk/
Prices from £9.99 for a box of 12 packs of Cauliflower Crisps, delivered straight to your door.
Tags:
cauliflower crisps
,
crisps
,
Gluten-Free
,
Products