In the spotlight… Eat Real snacks
Healthier Snacking Just Got Real!
When Eat Real burst onto the scene in 2014, they certainly shook up the world of snacks! Here was a vibrant new snack brand that off ered a host of dietary benefits – gluten-free, vegan, free-from all 14 declarable allergens and perhaps most importantly, full on flavour – and it immediately set out to shatter the myth that healthier snacking was boring!
Innovative Flavours
Taste, texture and healthier ingredients are the three main selling points of all the Eat Real snacks and their innovative, bold and award-winning flavours have rapidly attracted a loyal and enthusiastic following – so much so that they've just been named the UK's no 1 'free from' bagged snack brand! The dramatic rise in the demand for free-from food, combined with the belief that having a food intolerance shouldn't mean compromising on taste or nutrition, are key factors in Eat Real's success – their commitment to continual product development now means they are more than satisfying the nation's appetite for healthier snacking.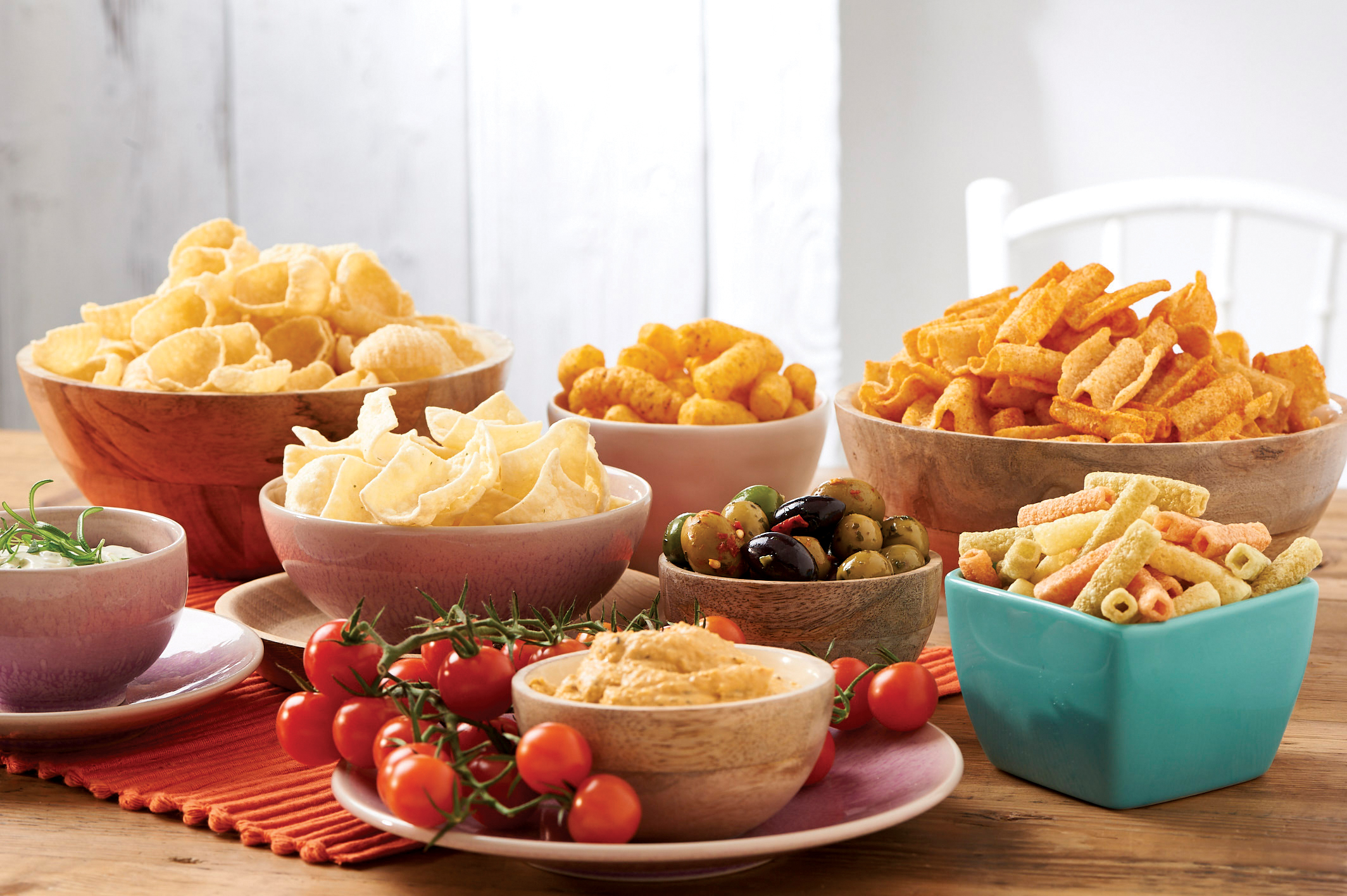 Fulfilling the Demand
Eat Real's story began when its parent company, Cofresh Snack Foods, decided to diversify its offering in response to the growing demand for healthier snacking – not just from people with food intolerances, but from those who were making lifestyle choices. Already a long-established and successful manufacturer of authentic and traditional Indian snacks, Cofresh launched its 'free-from' offering – and the Eat Real brand was born.
Today, the two brands sit comfortably side by side in the snacks market, each hugely successful and going from strength to strength. Eat Real snacks are now sold around the world and in the UK are available in most major supermarkets, independents such as Holland & Barrett and Whole Foods, and online through Amazon and Ocado.
The first ever Eat Real snack to come off the production line was the hummus chip, but the range quickly expanded and now comprises a true cornucopia of Hummus, Lentil and Quinoa Chips, Quinoa Puffs and Veggie Straws in an assortment of classic and contemporary flavours such as Mango & Mint, Sweet Chilli, Sea Salt, Paprika and Chilli Cheese and the ever-popular Sour Cream & Chives. There are also the delightful Kids Veggie Straws (perfect for little tums and their lunchboxes!) as well as Organic Hummus and Lentil Chips, Veggie Straws and their latest offering, the delicious Cheezie Straws.
Keeping it Real
Changes in taste and lifestyles are now heavily influencing how we, as consumers, shop and although our tastes are diversifying, the demand for healthier snacks is still as strong as ever. A recent survey found that 41% of us are looking for snacks with less sugar, 39% are seeking out snacks that are low in fat and 41% want snacks that provide energy or help us refuel. Eat Real meets all of those requirements while also delivering big time in terms of flavour, texture and ingredients – every snack is free from all 14 declarable allergens and suitable for vegan, kosher and halal diets. Eat Real's Hummus and Lentil Chips also contain up to 40% less fat than traditional potato crisps!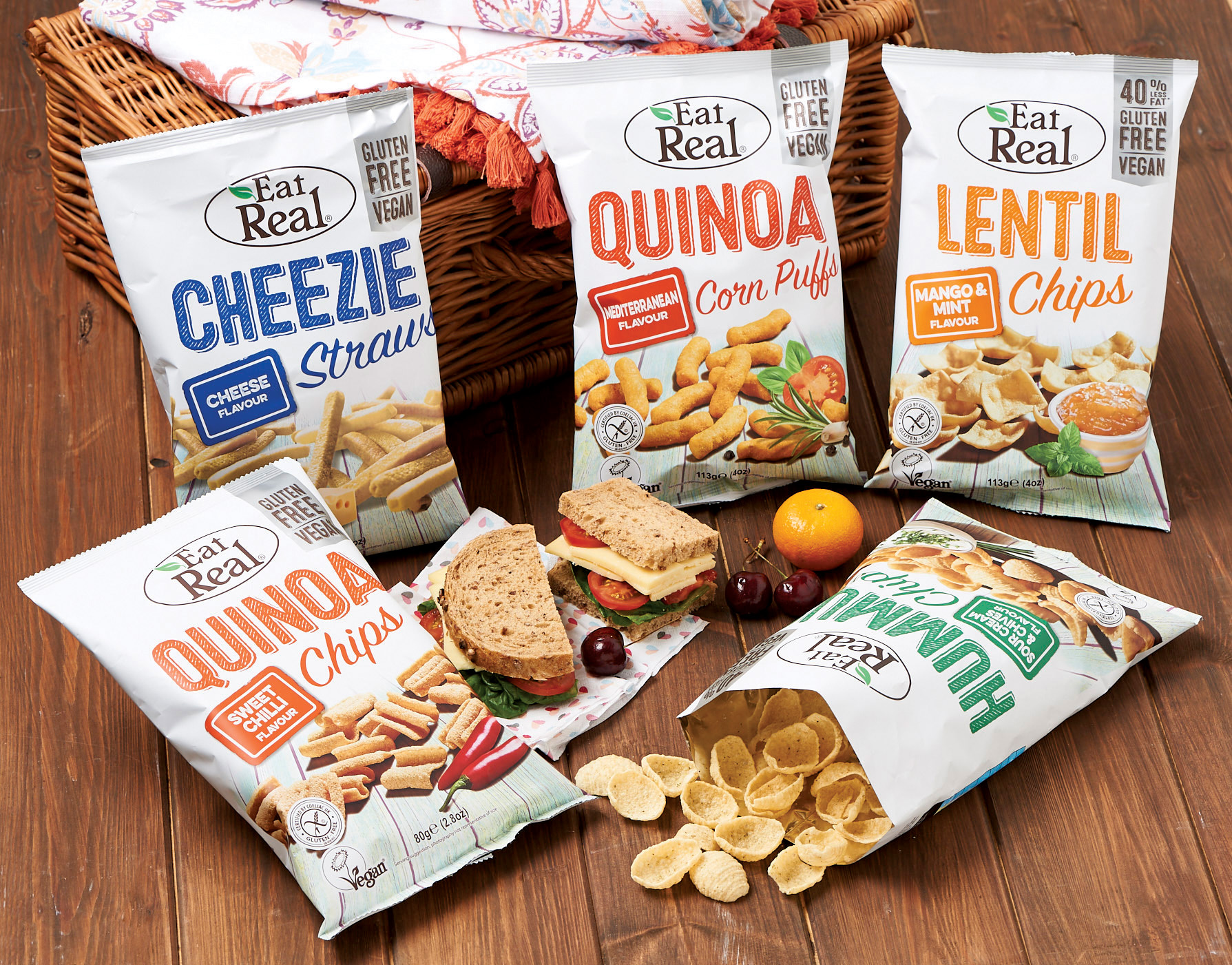 Moving On
It's been a busy year for Eat Real. They've been called a disruptor, but it's a term that they're proud to be associated with – Eat Real has never been a navel-gazer, but instead prefers to look outside the box for inspiration.
Their snacks have scooped plenty of prestigious awards including a highly coveted 'Great Taste' star, Bronze and Silvers from the FreeFrom Food Awards and the 'Best Snack Product' from Holland & Barrett, and they were shortlisted for the Best Alternative/Free From Product by Sainsbury's Magazine. They've launched seven new products and flavours, redesigned all their packaging and unveiled a major new consumer advertising and social media campaign.
To top it all off , their award winning Quinoa Chips have also just spent a month taking pride of place in an exclusive 'Eat Real' window at the Whole Foods storein High Street Kensington, while their Lentil Chips were included in more than 43,000 finishers' goody bags at the recent Virgin Money London Marathon! Eat Real set out to produce a range of snacks which can be enjoyed by everyone– at home, on the go and in the workplace– and if their recent success is anything to go by, it's mission accomplished. They're guaranteed to be the name on everyone's lips for the foreseeable future!
For more information, visit www.eatreal.co.uk
Tags:
Features
,
Spotlight