Jez Felwick (The Bowler) has taken on the award-winning Swaadish brand of small batch curry sauces, packed with colour and flavour.
Swaadish means 'tasty' in Gujarati and boy, do these curry sauces have taste.  Two them have just scooped yet another Great Taste Award and they could not be easier to use: simply whack your meat, fish, tofu or veggies into a pan, let them all soften a bit, add in the Swaadish of your choice and bosh – you're ready.  Try adding a bit of coconut milk to really make them sing…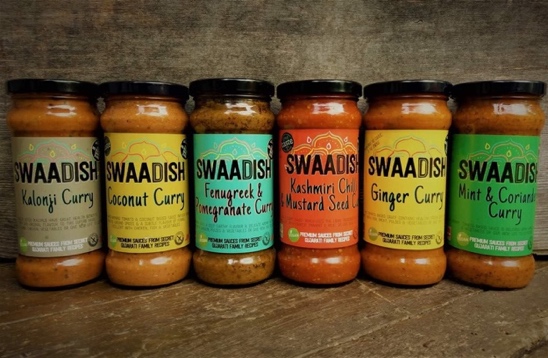 Take 4 sisters from Gujarat with a serious talent for making curry sauces, and throw in one seasoned street food trader with a penchant for big flavour….and what do you get?  You get Swaadish, a six-strong range of deliciously vibrant, versatile curry sauces in a jar, two of which have just scooped a Great Taste Award.  The word 'Swaadish' means 'tasty'.
Each jar in the range comes packed with flavour and colour, designed for fast-to-cook curries at home (literally: add vegetables, meat, fish, or tofu; stir for a few mins, and serve).  They're good for vegans, are gluten free, contain zero nasties, and are a great way to use up meat or vegetable leftovers.  They're also made in small batches to ensure quality throughout.
Fenugreek & Pomegranate curry (Great Taste * 2020)
Kalonji curry (Great Taste * 2020)
Kashmiri Chilli & Mustard Seed (Great Taste * 2016)   
Coconut curry (Great Taste * 2015) 
Ginger curry
Mint & Coriander curry
Jez Felwick, aka The Bowler, burst onto the street food scene 10 years ago with his eye-catching grass-covered truck and his brilliant meatball offering. Since then he has gone strength to strength with book deals, TV appearances and big festival and has become a proud KERB founder.  Meanwhile, four Gujarati sisters from London were quietly making waves with their fast-to-cook curry sauces made to age-old family recipes, but were thinking about giving up. The sisters prepared
and cooked the sauces from scratch themselves, and it was starting to take a toll on their health.
He says, "I'd been buying at least one jar a week of these sauces. The ladies were struggling a bit and looking to sell the production kit, so I've come on board. I am first and foremost an avid fan, since way before I met these ladies; I use them all the time at home and during lockdown I used them on wings, racks of lamb, and on my balls! To this day, they still help and advise me – they're a huge driving force in the business. They hope my energy and passion for the sauces can help take the range to the next level and kick out the tired competition on the supermarket shelves. So that's my mission."
Swaadish is available to buy online at www.swaadish.com plus at various independent retailers across the Home Counties. Each jar costs £3.95 plus delivery, and he is currently offering a 'six jar bundle deal' for £22 plus delivery. He is offering free delivery to RG1, RG4, RG8, RG9, RG30 & OX10.
Tags:
Gluten-Free Diet
,
Products