LoveRaw (www.eatloveraw.com), the indulgent, plant-based chocolate brand on a mission to produce delicious vegan confectionery, has launched two brand-new varieties to its collection ofButter Cups with the launch of a M:lk® and White Choc Peanut Butter Cup.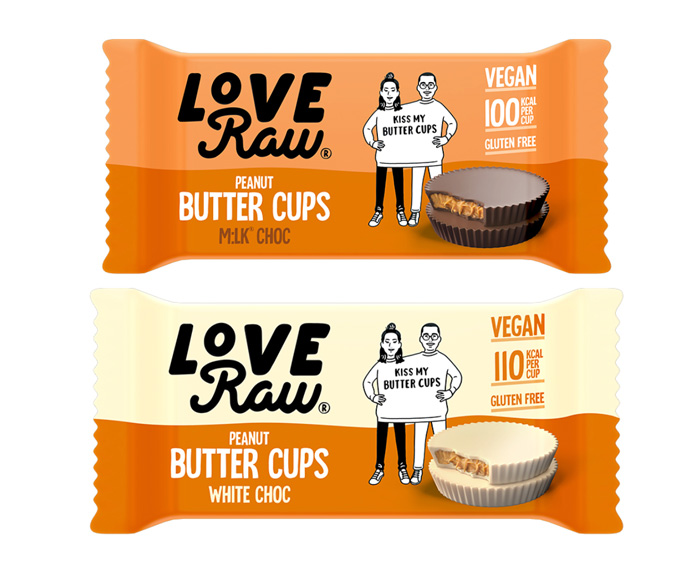 The White Choc Peanut Butter Cup is the world's first White Choc Peanut Butter Cup made without palm oil. Both the M:lk® and White Choc Peanut Butter Cup are created using a brand-new recipe, which ensures a flavour and texture even closer to traditional chocolate.
Tastier than the traditional Peanut Butter Cups on the market, these vegan bad boys are a game changer: delivering deliciousness without palm oil, dairy or artificial ingredients.
Each cup oozes smooth, creamy peanut butter and is covered in melt-in-the-mouth m:lk® and white choc, which can be enjoyed by anyone, whether they're extremely vegan, sometimes vegan, 'unvegan' or just vegan curious. Perfect for sharing with a friend or for a moment of self-indulgence with a cuppa.
The two brand-new Peanut Butter Cups are part of an exciting new product line up for 2022 and build on the success of last month's new M:lk® Choc Bars which have been flying off store shelves as more and more UK shoppers are trying plant-based chocolate.
The M:lk® and White Choc Peanut Butter Cups are available to purchase from retailers including The Vegan Kind, Co-op, Amazon and LoveRaw's website