NEW Large Sharing Bags of Mini Popcorn – 100% VEGAN
Popcorn Shed have launched 6 NEW large sharing bags of their popular vegan mini popcorn range Mini Pop!
Gluten Free. 100% Vegan. Low calorie. Available in 6 tasty flavours: Sweet & Salty, Sea Salt, Toffee, Salt & Vinegar, White Truffle and Maple Bacon. Not only is it Healthy, Vegan, Gluten-Free, Low Calorie, Wholegrain and doesn't get stuck in your teeth, but it tastes great too!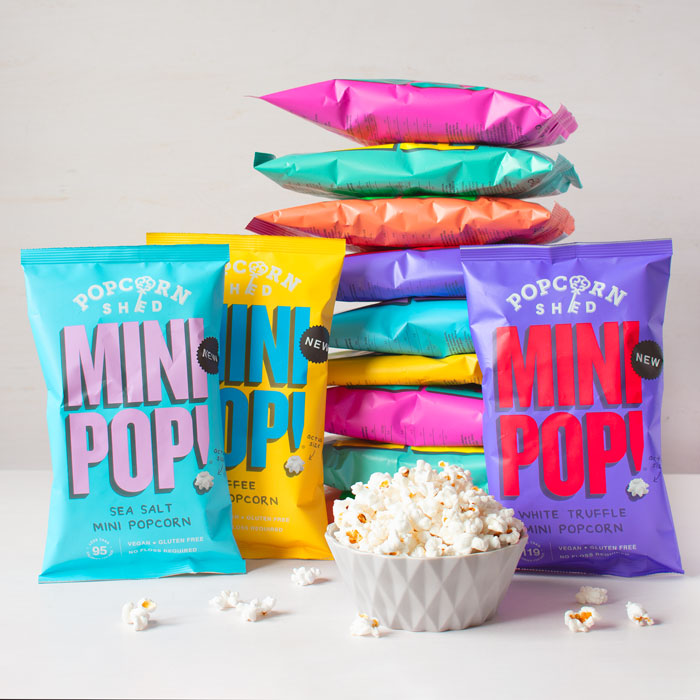 Mini Pop!® is different from what you've tried before. It uses a white pure grain of corn that not only pops to around ½ the size of regular popcorn but has all the benefits of regular sized popcorn and more!  
This makes the kernels small and tender, with a thinner hull than regular popcorns, that break up on popping and virtually disintegrate when chewed.  This means they don't get stuck in your teeth, like regular popcorn often does, which improves the eating experience.  
Popcorn Shed's Mini Pop!®  range is the first fully vegan popcorn line in the UK and the only mini popcorn line.
Popcorn Shed's MiniPop! range will add to the company's existing product lines, that centre around fantastic tasting gourmet flavours perfect as a treat or to give as a gift. 
Available from: www.popcornshed.com, Ocado and Amazon.
RRP £1.99
Comments
Tags:
Gluten-Free Diet
,
Gluten-Free Products
,
Gluten-Free Snacks
,
Products
,
Vegan Snacks