NEW! Nairn's adds Choc Chip flavour to its award-winning gluten-free Oaties range!
Deliciously chocolatey, crumbly and highly moreish, say hello to your new favourite every-day biscuit: Nairn's Gluten Free Choc Chip Oaties!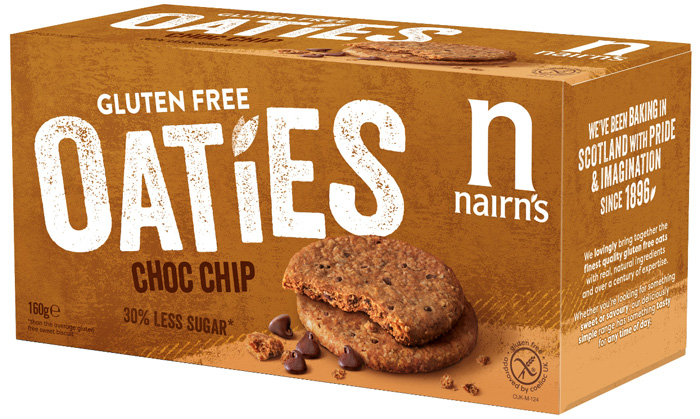 The original Gluten Free Oaties from Nairn's continue to be a roaring success, but who can say no to the addition of chocolate? Made from gluten free oats, these new Choc Chip Oaties are packed full of wholegrain goodness – they have a delicious burst of natural oat flavour and are perfect for dunking in your cuppa.  An essential for office biscuit tins and kitchen cupboards alike, Nairn's Gluten Free Choc Chip Oaties are set to transform your teatime breaks – and they're lower in sugar too. Time to tuck in!
Lower in sugar and calories 
It's true, Nairn's knows a thing or two about oats (they've been baking with them since 1896), but they are also the UK leaders in lower sugar biscuits too. Action on Sugar's report[1] reveals that Nairn's sweet biscuit ranges has the lowest sugar per 100g and the second lowest calories per 100g out of 481 biscuits tested. The new Nairn's Gluten Free Choc Chip Oaties are no different and contain an impressive 30% less sugar than the average gluten free sweet biscuit*.  What's more, they're also high in fibre and only 49 calories per biscuit. Biscuit lovers rejoice – enjoying a deliciously simple everyday biscuit has never felt so virtuous!
Deliciously dunk-able and naturally nutritious 
Simple, chocolatey and with a light and crumbly oaty texture, Nairn's Gluten Free Choc Chip Oaties are the perfect partner for your daily cuppa.  For centuries, wholegrain oats have been a rich source of vitamins, minerals and nutrients, and contain complex carbohydrates that give a natural and wholesome boost.
Nairn's Gluten Free Oaties at a glance:
Packed full of gluten free wholegrain oats
Contain no artificial colours, flavours or preservatives
Only 49 calories per biscuit
High in fibre
At least 30% lower in sugar than the average Gluten Free sweet Biscuit
No GM ingredients
Suitable for vegans
Suitable for people  with coeliac disease(carry the Coeliac UK crossed grain logo)
No hydrogenated fat
Nairn's Gluten Free Choc Chip Oaties (RRP £1.39, 160g) are available in Sainsbury's.
Tags:
Gluten-Free Diet
,
Gluten-Free News
,
Gluten-Free Products
,
News
,
Products