Tasty new snack bars that won't spike your blood sugar levels
The summer is coming and it's time to get fit. If you work in an office and doing long hours snacking often becomes the reality. But even healthy snacks come with a sugar spike warning and there's no time to burn that sugar off at the gym. Adonis Smart Foods, the new low sugar snack start-up, introduces two crunchy nut bars that will keep your energy levels up and sugar highs low this summer.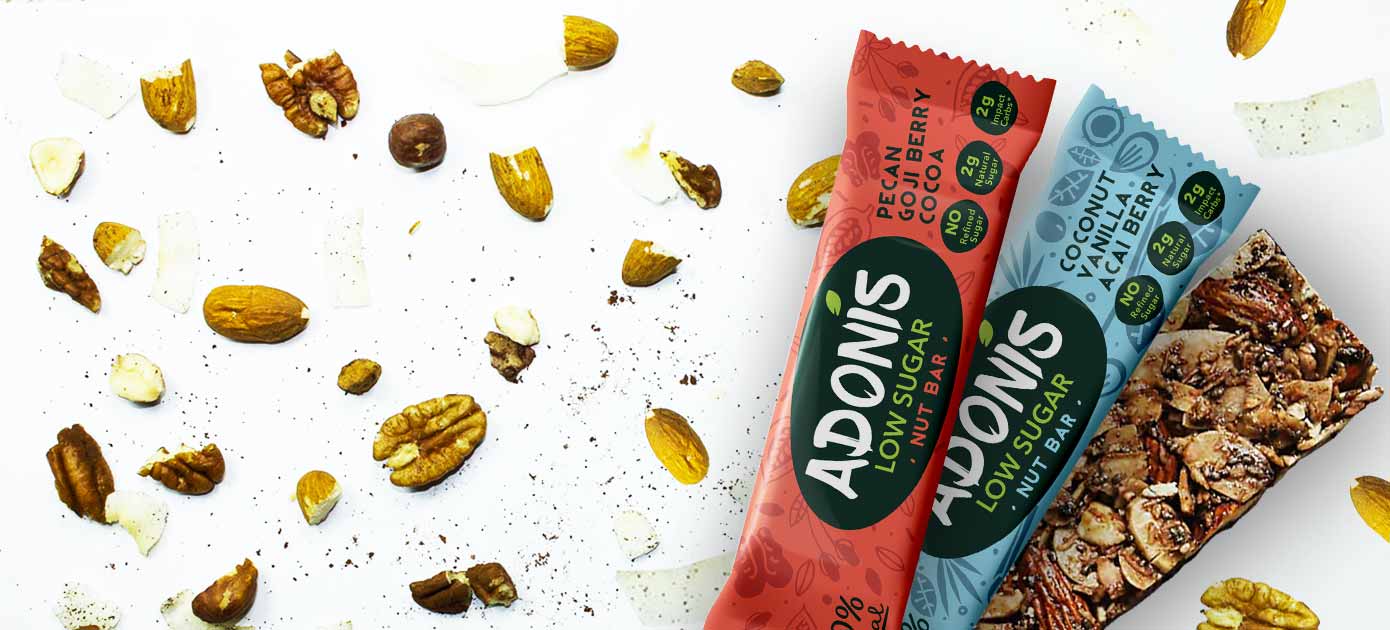 Sugar gives you a quick boost but it only lasts a short time. Once the hype wears off, you will feel even more tired than before and when you're stuck in an office all day, these spikes can lead to weight gain. Adonis snack bars aim to satisfy your sweet cravings but with only 2g of naturally occurring sugars and no refined or high fruit sugars, like dates and raisins, which are loaded with sugar (around 40 per cent sugar content). These slow energy release bars are low in carbs too with only 2g net carbs.
First up is the Pecan, Goji Berry & Cocoa Bar. The Free From Food Awards 2017 Gold winner is filled with crunchy pecan pieces and hints of cocoa and goji berry. Second, is the Coconut, Vanilla & Acai Berry Bar blends the flavours of vanilla, coconut and acai berry, along with almonds and cashews. The products are suitable for those who are gluten free, soy free, vegan and paleo. Enjoy them at your desk when you need a pick-me-up or when you fancy a sweet guilt-free treat.
Adonis was launched by Ingo Braeunlich, a former investment banker, who found himself always reaching for snacks during long and stressful working hours. A lack of healthy snack options available led him to develop his own, that wouldn't preclude him from staying in shape and were natural, healthy and delicious.
Ingo Braeulich, Founder of Adonis, said:
"Working long hours with no chance of escaping to the gym makes it even harder to snack on foods that can be burned off. Many healthy energy bars out there are designed for athletes, who need a fast energy release. Adonis aims to be the option for people who are cooped up in the office, working late and don't have time to fit in exercise. Our products provide the slower energy release that doesn't compromise on taste or nutritional value."
Adonis snack bars RRP at £1.95 and are available on Amazon, Yumbles, As Nature Intended, Partridges, a range of health food stores and the Adonis website.
Tags:
News
,
Products