This Brik a L'oeuf  is quick and simple to make, and makes a perfect light evening meal.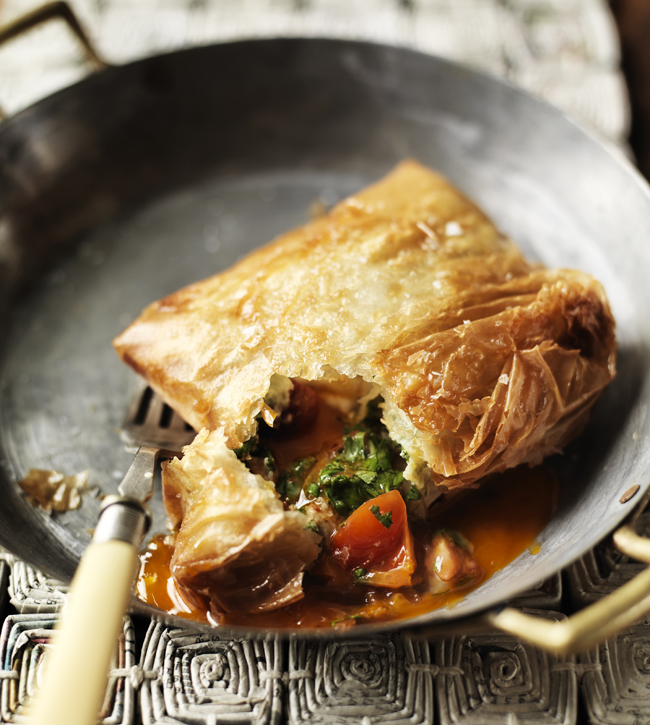 Brik a L'oeuf
Serves 1 | Prep 10 mins | Cook 10 mins |
SF DF MF
Ingredients:
Vegetable oil, for deep-frying
2 sheets of filo pastry
2-3 cherry tomatoes, chopped
A few thin slivers of red or white onion
1-2 sprigs of fresh coriander, chopped
1 free-range egg
A pinch of dried chilli flakes
Salt and freshly ground black pepper
 Method:
Heat some oil in an electric deep-fat fryer or in a deep frying pan to a temperature of 170°C (or until a small piece of bread browns within about 30 seconds in the hot oil).
Meanwhile, lay 1 sheet of filo pastry on the work surface and scatter the tomatoes, onion and coriander into the middle of the filo, making a slight well in the centre of the vegetables. Crack the egg into the well, season with the chilli flakes, if using, and a little salt and freshly ground black pepper. Fold the filo up over the egg, tucking in the ends and sticking them together with a little brush of cold water. You should be left with a small pasty-size parcel.
Place the parcel on the other sheet of filo and wrap it up again to give you a double layer of filo around the filling, sticking the edges together once again with a little water.
Once the oil is hot enough, lower the filo parcel into the hot oil and deep-fry for around 5 minutes or until deep golden and crisp. After this time the egg should be lightly set with an oozing yolk.
Remove the filo parcel using a slotted spoon and drain on kitchen paper. This Brik a L'oeuf pasty is best eaten immediately whilst piping hot and crispy. It needs no accompaniment.